Class C Area 5 Junior Legion plays ball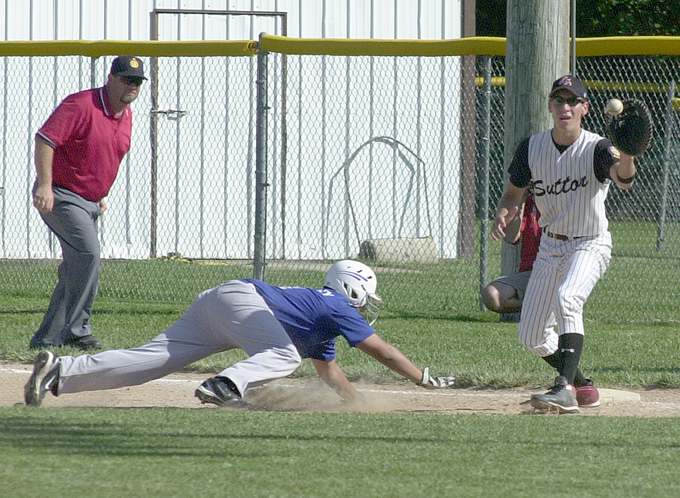 A rain out on the first night of the Class C Area 5 Junior Legion baseball tournament shuffled games around a bit, but didn't cause too many problems according to tournament director Doug Modlin. "We had to play four games Saturday instead of two, but that put us back on schedule," he said.
It's the first time Hebron has hosted such a big contest. The winner advances to the Class C state tournament in Pender, July 24-28.
The district tourney ended Tuesday night as Davenport/Edgar and Sutton met for the championship clash, but the outcome ran too late for publication and results will be presented next week. 
In the meantime, No. 6 Hebron's first game against No. 3 David City ended Thursday, 7-4, advancing the local hosts to face No. 1 Davenport/Edgar Friday. Hebron fell in that contest, 4-2, forcing them into the "comeback" bracket to face No. 4 Wilber. The three-hour, exceptionally high scoring contest went to Wilber in the end as they defeated Hebron 21-18 ending Hebron's contention for state.  
The local area's higher seeded team, No. 2 Davenport/Edgar defeated Lawrence-Nelson, 20-1, Thursday evening before defeating Hebron on Friday. And after upsetting No. 1 Sutton on Sunday, 6-0, the D/E squad entered the championship game undefeated to face Sutton a second time. 
 The Davenport/Edgar squad consists of players Ryan Tegtmeier, Andrew Kuta, Trent Tietjen, Brady Shipley, Luke Christensen, Dalton Kinnaman, Kendrick Holeman, Scott Hild, Tyler VanCleef, Sam Christensen, Chase Murman, and Austin Nacke and is coached by Rod Tegtmeier and Jim Hild.
The Hebron squad includes members Andrew Wilshusen, Brett Finke, Clay Jones, Josiah Burger, Lane Baker, Caleb Goedeken, Benjamin Hintz, Quinn Pracheil, Brayden Hergott, Luke Dlouhy, Cameron Asche, and Clayton Hintz and is coached by Mark Hintz, Loren Goedeken, and Justin Bomar.
Senior Legion
The Hebron and Davenport/Edgar American Legion Senior baseball teams head into Class C Area 5 district play tomorrow; the tournament is played at Giltner, July 22-27. 
The No. 2-seeded Hebron team will take on No. 7 Harvard/Giltner at 11 a.m., in the opening game of the contest. No. 1 Davenport/Edgar will play No. 8 Hampton in game four at 8 p.m. Other contests include No. 3 Geneva against No. 6 Superior at 2 p.m., and No. 4 Daykin-Meridian against No. 5 Sutton at 5 p.m. A bracket can be found at www.nelegionbaseball.net/tournaments.htm
Teams must win the district contest to advance to the Class C state tournament at Tri-County, July 31.