Titans take third at C2 state contest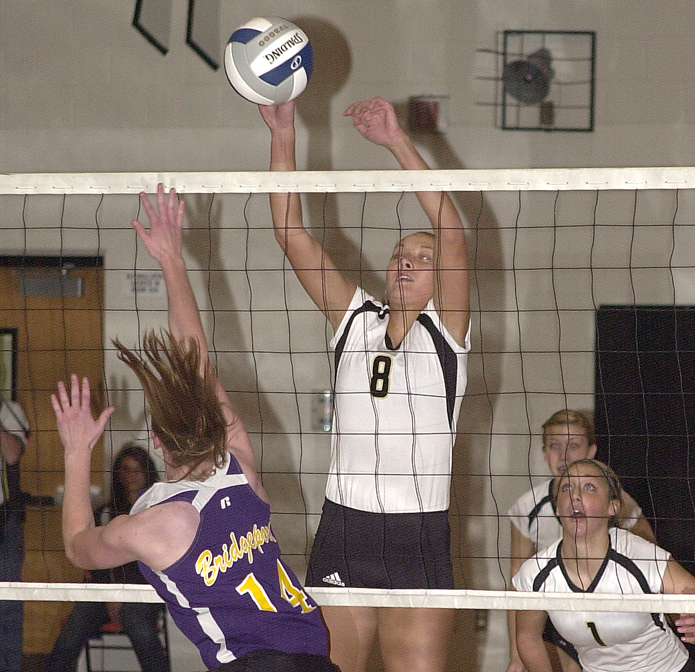 Thayer Central claimed third place in the C2 state volleyball tournament Saturday after easily defeating Southwest in three straight sets. The victory, 25-9, 25-12, 25-9 ends the Titans 2010 season on a 29-3 record.
Cody Long led the attack with 11 kills while Michaela Marsh and Bridgette Baden added three each. Marsh also added two ace serves. Kinsey Tietjen had two kills and two ace serves. Claire Timmerman was good for 18 of a total 23 assists. For the defense, Marsh put up two ace blocks and Baden had 14 digs.
Prior to the consolation round, the Titans took it to the wire Friday night in an attempt to best Hartington Cedar Catholic, but couldn't complete the task. The C2 semifinal match went to HCC, 25-17, 19-25, 25-21, 23-25, 15-11, in the last minutes of the fifth game of the series.

Thayer Central will play Southwest this afternoon at 4 p.m. for third place before ending its season. HCC plays top-ranked Lutheran NE for the championship tonight at 8:30 p.m.

In the contest against Hartington, Thayer Central senior Cody Long led the attack with 20 kills while Bridgette Baden had seven. The sophomore also added an ace serve. Senior Michaela Marsh had four kills and one ace serve while junior Kinsey Tietjen had two kills and two ace serves. Junior Claire Timmerman provided 32 of Thayer Central's 34 assists. She also had one kill in the contest.

On defense, Baden led at the net with four ace blocks while Tietjen had three. Long and Marsh each had two ace blocks and freshman Kelsey Long had one.
Earlier in the state finals competition, No. 2 Thayer Central defeated No. 7 Bridgeport, 3-0, Thursday afternoon in the first round of the tournament. No. 3 Hartington also defeated No. 6 West Holt, 3-0, to advance into the semifinal match.

In the first round, the Titans dominated Bridgeport from the beginning to take the game 25-11, 25-12, 25-18, in straight sets.

Bridgeport struggled to control outside hitters Cody Long and Bridgette Baden who combined for 28 of Thayer Central's total 30 kills. Long had 16 and Baden had 12. Both also contributed one ace serve each and Baden had one ace block for the defense.

Michaela Marsh added an ace block, but was superior from the service line with three aces – two of those coming in the second match. She also added one ace kill on the night.
Others adding aces included Kelsey Long with one kill and one serve, Kinsey Tietjen with one block and one serve, and Claire Timmerman with one serve. Timmerman was also good for 28 assists.