Complete Nutrition featured on new A&E reality show
Owner Cory Wiedel makes appearance.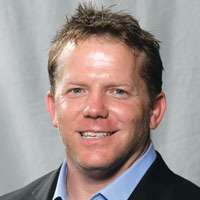 Hebron's own Cory Wiedel will appear on A&E Television soon. The station's new reality series "Be the Boss" will feature Wiedel's company Complete Nutrition in the premiere telecast Sunday, Dec. 2, at 9 p.m.
The series is a competition-based reality show that pits two employees of a franchise-based company in the battle of a lifetime; ownership of their very own franchise.
Wiedel's company sets the stage for the series which also features Auntie Anne's, Signal 88 Security, Molly Maid, Jazzercise and The Melting Pot throughout the season.
Wiedel, who is a 1992 graduate of Hebron High School, started Complete Nutrition in 2005 after several years of franchise experience in the nutritional-supplement industry. Wiedel had been a 15-store franchisee for the retail chain GNC before partnering up with Ryan Zink who was a manager for Wiedel at GNC to form Complete Nutrition. Today, Wiedel is the company's chief executive and founder while Zink serves as president.
In 2008, the company began selling franchises and as of mid-June, Complete Nutrition had 151 stores, while another 120 are scheduled to open in the next three years. Complete Nutrition has a $103 million revenue projection for this year; the long-term goal is to be a $1 billion brand with more than 1,000 locations by 2025.
According to A&E Television, emmy-award winning creators of "Undercover Boss" are behind the making of  "Be the Boss."
The show faces off two lower-level employees from the ranks, giving them the chance at what they think is a big promotion.
In each episode, the "big boss" (in this case Wiedel) summons two deserving candidates to the company headquarters and subsequently puts them through a series of challenges to test their mettle at being in a senior management role.
Both employees battle to prove they should earn the promotion, but they're in for the shock of their lives when they discover that an even greater opportunity is ultimately at stake – the keys to their very own franchise.
Wiedel, who said he will appear in several scenes during the premiere, used to wrestle, play football and participate in track as a student at Hebron High School. While his twin brother, Casey, lives here in Hebron, Wiedel lives in Omaha with his wife, Jeri, and sons including two-year old Jagger, and three-year old Jayden. "We also have a 19-year old daughter, Desiree, who's going to college at UNL," he said, "where she's a member of the gymnastics team."
Wiedel is the son of Jackie Wiedel of Hebron and the late Roger Wiedel.