Farmer supports county through America's Farmers Grow Communities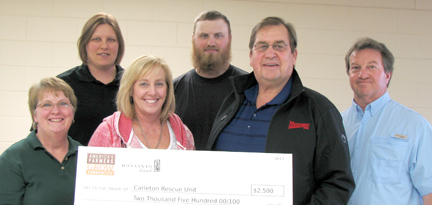 The Deshler Community Fund and the Carleton Rescue Unit will now be able to better serve the community thanks to the support of local farmer, Jim Raess, and America's Farmers Grow Communities.
Sponsored by the Monsanto Fund, which is the philanthropic arm of Monsanto Company, Grow Communities provides farmers in eligible counties the chance to win a $2,500 donation for a local nonprofit organization of their choice. To further support counties declared natural disaster areas by the United States Department of Agriculture (USDA) due to the drought this year; winning farmers in these counties are able to direct double donations, a total of $5,000.
Thayer County was declared a disaster area by the USDA, giving Raess the opportunity to choose two organizations to receive $2,500 donations. He selected the Deshler Community Fund and the Carleton Rescue Unit. The Deshler Community Fund will use the donation for a charitable project to benefit the community.
The Carleton Rescue Unit will use the funds to purchase an infrared camera for use by the rescue unit and fire department.
"A Grow Communities donation to the Deshler Community Fund will benefit everyone in my community," Raess said. "I had a combine fire several years ago and a few years before that I had a mishap with carbon monoxide poisoning that the rescue unit helped me out with, so I definitely want to support them with this donation as well."
This year, the Monsanto Fund will invest nearly $6 million in rural America through Grow Communities, which includes double donations for counties impacted by the historic drought.
In Nebraska, $390,000 is being given across 78 counties.
America's Farmers Grow Communities is sponsored by the Monsanto Fund to partner with farmers in helping them positively impact their communities. This program is part of the Monsanto Fund's overall effort to strengthen rural America.
For a complete list of Grow Communities winners and more program information, please visit growcommunities.com.
The Monsanto Fund, the philanthropic arm of the Monsanto Company, is a nonprofit organization dedicated to strengthening the farm communities where farmers and Monsanto Company employees live and work. Visit the Monsanto Fund at www.monsantofund.org.