Activity Center gets finishing touch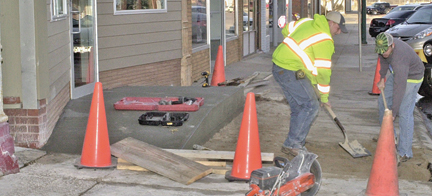 The stoop in front of the Hebron Activity Center was replaced last week as the finishing touch on the Center's renovation. The old stoop was replaced with a new handicap accessible ramp that meets current regulation for public buildings.
The building was renovated last year after city officials discovered it would be less costly to upgrade the facility rather than tear it down. The City acquired the building which housed the Pioneer Club in 2010 after the last member of the Club passed away.
Renovation began last March and local contractor Chuck Fink headed up the enterprise. Once the new roof was added, new heating and air conditioning as well as the replacement of all the old wiring gave Fink the go-ahead to start construction. He replaced the ceiling; combined the two old bathrooms into a new, larger and wheelchair accessible restroom; completely replaced the kitchen countertops, added new cupboards and appliances in the kitchen; repaired, orange-pealed and painted the walls; replaced windows and doors; repaired broken tiles in the floor; and insulated the ceiling. A new office for the Hebron Chamber of Commerce director was also installed.
Many volunteers helped Fink refurbish the building and all local businesses were used for professional work and supplies, Fink said during the construction.
The Center can be rented for $75 and if the place is left as found, manager Howard Mills adds, renters receive a $25 refund.