First winter storm takes sweet time to pass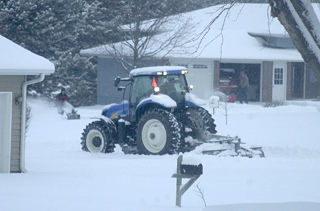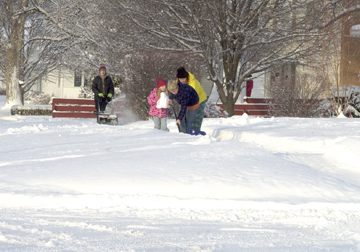 Thayer County was hit with its first significant winter storm of the season as nine inches of powder covered its landscape and townships. Locals spent Sunday morning digging out after nearly three inches of snow fell overnight Saturday night, then faced over six inches Monday morning when a second blast moved through Sunday night.
The additional snow closed area schools for the day to give folks a chance to dig out. More snow with increasing wind was expected Monday into Tuesday, but the final blow missed the area. Some drifting Monday night caused school delays Tuesday morning, but no more snowfall was reported.
Temperatures, however, plunged to below zero and coupled with 10-20 mph wind from the north, wind chills reached 20-27 degrees below zero.
For the next week, high temperatures are expected to range from 23 to 34 degrees after today.
Pictured top: City of Hebron snow mover Karl Wiedel clears streets as neighbors in the background work on their respective driveways Monday morning.
Above: The Kotschwar family moves snow from sidewalks outside their home on Lincoln Ave., Monday morning.