Girl Scouts celebrate 100 years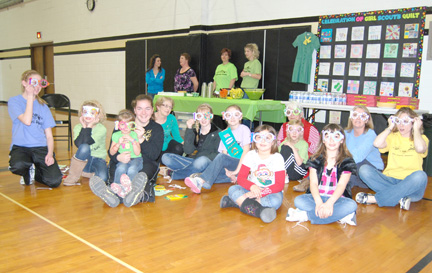 Being a Girl Scout might best be expressed in the words of Thayer Central second-grader and Hebron Girl Scout Abigail Boatright. "It is nice to give to people and do things for others." Or maybe classmate Takaylynn Hergott knows what being a Girl Scout means. "We all get to be 'sisters'." Perhaps Kinsley Kugel can add to the definition, "We get to go on adventures," or maybe Jayme Huhman's perspective sums it all up when she says, "Girl Scouts is lots of fun."
However it's described, Girl Scouts is an organization where young girls have learned how to give to others and their communities, made lifelong friendships, participated in adventurous experiences, and just plain had a good time for 100 years.
On March 12, 1912, Juliette Gordon Low held her first Girl Scout meeting at her home in Savannah, Ga. Little did she know her organization was on the verge of creating a new definition for what it was to be a woman in the 20th century. At the time of the first meeting, most women were stay-at-home mothers who cooked, cleaned and raised their children. Low, also a part of the stay-at-home generation, focused her earliest meetings on learning domestic skills; however, as time passed, Girl Scouts moved into teaching young girls new skills and talents outside of the home.
Today, at 100 years old, the organization boasts a record of progressiveness built on combining lessons in domestic know-how with outdoor adventures and technical skills aimed at teaching girls they can do anything.
"I learned from Girl Scouts that volunteering and community service are very important in many ways, especially in building character," says former Hebron Girl Scout Jessica (Wiedel) Knobbe. "I was a Girl Scout from the moment I could be through my senior year of high school and earned both the silver and gold awards. I learned to prepare for the worst and hope for the best and that women can do anything."
Jessica's aunt, Carlece (Wiedel) Kenner has been involved in the local unit for 28 years as an adult serving as a leader and service unit manager. "I was also a Girl Scout as a young girl," she adds. "We met in the Hebron library and I can remember wearing my uniform, keeping a kaper chart, singing songs, bringing change for dues, making a sit-upon, selling cookies and going to camp. Judy Kassebaum and Goldie Bartling were my leaders, and as a leader myself, I was able to share in the lives of the girls in our troop as they transformed from girls to young women."
Currently there are 73 registered girls and 28 registered adults. "We also have 24 lifetime members," Carlece adds. "That means 41 percent of the available girls in our area are members of Girl Scouts; a truly high, if not the highest, ratio in the state of Nebraska. As Service Unit Manager, I have worked with some remarkable women and men both at a community and council level. Because of these great leaders, our membership stays high."
Penny Pfingsten, a local mother of three daughters, said being a leader was particularly rewarding as she watched her daughters and their friends grow through the Girl Scout program. "The greatest thing to me as a mother is hearing my girls say, I did this or I did that when I was a Girl Scout," she explains. "It makes me proud to know I was a part of their community spirit and many accomplishments in Girl Scouts."
Pfingsten's daughter Whitney is looking forward to following in her mother's footsteps by becoming a leader someday. "Girl Scouts was a wonderful and fulfilling organization for me," she says and adds that she is a lifetime member of Troop 956. "I have many amazing memories that stem from being a part of the "troop that never went to sleep," and look forward to becoming a leader and giving young girls the same great experience I had."
Rhiannon (Kenner) Svitak looks back at her scouting years by pinpointing skills learned through the organization. "I remember traveling to the east coast with my troop as one of the highlights of my Girl Scout years, but today, as I embark on a different journey as a mother, I have come to respect the little things I learned through scouts, such as leadership, creativity, imagination and teamwork," she states. "I am very grateful for the time, encouragement, and dedication my leader Mary Friehe gave to the program so that I could reap the benefits."
It doesn't take long to realize the importance of the organization after hearing from so many who grew up within its guidance. The memories, companionship and strength so many have received continues to be passed on, especially in Hebron.
"Growing up with an older brother; I'd say the best part for me was the sisterhood," says lifetime member Tisha Templin. "Being a part of the Girl Scout organization is not just about peanuts and cookies; it is courage these girls walk away with, knowing there are no limitations to the places and things that the girls are capable of. Just think how far this organization has come over the past 100 years and to dream of the goals that are yet to come. It is with great honor to be one of the many lifetime members of Girl Scouts."