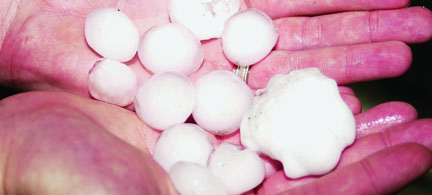 In a speedy evening storm Sunday, areas in Thayer County were pelted with hail stones up to the size of tennis balls. The fast-paced onslaught was over in about thirteen minutes as the cell, carried on high winds, made its way in a northeasterly direction from Kansas through Thayer County. The largest stones were found southwest of Hebron where several property owners reported broken windows in homes, outbuildings and vehicles.

The day's high temperature reached 92 degrees in Hebron before the storm hit at 5:20 p.m. Muggy conditions were also on hand and as a cold front made its way across the Plains, the local area was placed in a severe thunderstorm watch. The quick-paced storm dropped the temperature 20 degrees as it hit.

No funnels were seen or reported although straight-line wind gusted to over 60 mph at times. No crop damage was reported.