Davenport woman hurt in crash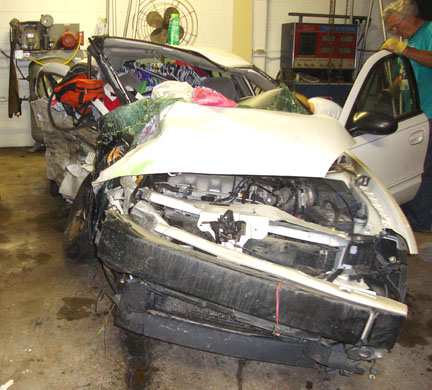 Hannah Maschmann, 20, of Davenport, suffered a concussion, bruises and abrasions  Saturday evening after being in a head-on collision with a David City driver in eastern Butler County.

According to an accident report filed by the Butler County Sheriff's Office, Andrea S. Nicolas, 28, of David City was changing a song on her iPod when she crossed the center line in her 2001 Dodge minivan into the path of oncoming Maschmann.

Nicolas was eastbound on Nebraska Highway 92 just east of Road V. Maschmann, who was westbound in her 2004 Oldsmobile said she saw the van coming at her and swerved into the eastbound lane to avoid it. Nicolas realized she had crossed the center line and swerved back into the eastbound lane. The van and Oldsmobile collided head-on.

The Nicolas van spun 180 degrees and stopped on the road, while Maschmann's vehicle spun around, but left the roadway and rolled into a ditch coming to rest on the passenger side of the vehicle.

Other motorists witnessing the accident stopped to help Maschmann from her car as the vehicle caught fire.

Both women were taken to Butler County Health Care Center in David City, then taken by ambulance to the Trauma Center at BryanLGH Medical Center West in Lincoln.

According to Maschmann's mother, Marla Maschmann, Hannah was released from BryanLGH Sunday evening and is doing fine.