Hebron girls 5-1 in Class D championship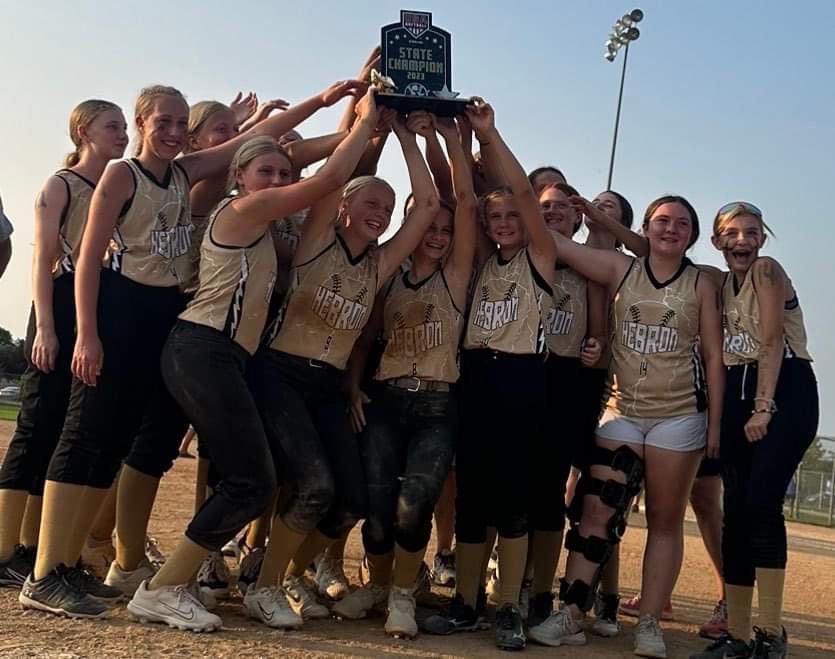 Hebron Titan 14U girls worked their way up to the state championship game and reaped a 6-5 triumph to take the top trophy in Hastings over the weekend.
The Titans started out victorious in the first two rounds against Bow Spirit (5-3) and the Nebraska Quakes (11-10).
Championship Sunday began with lightning delays that pushed games back three hours, forcing a time limit to just 55 minutes per game.
Hebron would take on the PC Bombers, a select club team from Columbus, in the semifinals. The bombers came out hot and put up 5 runs to the Titans' 1 in the first inning and they never looked back. PC took the game with a score of 9-4.
Hebron moved into the loser's bracket to take on Creighton Thunder. The Titans bounced back as they came out of the first inning with a 5-0 lead.
Their lead would have been much bigger without the controversial call at the plate that stated the runner never touched home.
Coach Tyler Watson said the team has video proof that states otherwise. 
Hebron rolled ahead with the lead to an 8-5 win as time expired before the Titans were due to bat in the third inning. The victory put them back in the State Championship for the third year in a row.
The Titans had to beat the PC Bombers twice to be crowned the Champs.
The first game of the championship started out different than before as PC was up going into the third inning. The Bombers scored 3 runs to take the lead 4-0 into the bottom of the inning. A couple walked and 6 consecutive batted balls into play earned the Titans the winning score of 5-4.
In game 2 of the championship, the Bombers once again were ahead of the Titans 5-0 after the first half of the second inning. The Titans scored 2 runs in the second half of the inning.
Another controversial call that almost sent a couple of Titan coaches out the game was all it took to give the girls the spark they needed to finish. Hebron held the Bombers scoreless in the third and scored 3 of their own runs to tie the game at 5.
Time had expired and the girls went into extra innings with an International tie breaker (both teams started their half of the inning with a runner on 2nd base).
PC went down 1-2-3 in the fourth, leaving the game tied 5-5 going into the bottom of the inning. The first two Titans at bat put the ball in play to advance a runner home in a thrilling environment to come out on top as State Champions.