Hebron laundromat destroyed by fire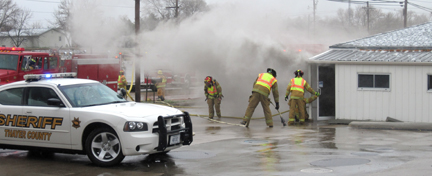 Update: The Hebron laundromat, Mr. Bubbles, owned and operated by Merle Hartley, was destroyed Wednesday, April 10, after a fire broke out inside the business. Hebron firefighters found a billowing cloud of gray smoke as they arrived on the scene around 1:30 p.m. The laundromat is located on old Highway 81, or 13th Street, next door to the Casey's store at the corner of Lincoln Ave. The 911 call was made by an employee of Casey's.
According to Thayer County Sheriff David Lee, the blaze was not electrical and was believed to have started near or on a mattress. He said a witness came in contact with an unknown male inside the laundromat about an hour before the fire started. The man was not doing laundry and the witness asked him to leave the premises.
Hartley said his place of business was most likely destroyed beyond repair. "One half of the building was used as a laundromat and the other half was a used furniture store," Hartley said. All the furniture and appliances (washers and dryers) were destroyed. "It won't be good for the people who regularly use it," he said. "They'll have to drive out of town for a laundromat now. I just wanted to provide the town of Hebron with something we don't have."
Sheriff Lee said the department has reason to believe someone is responsible for the blaze although the State Fire Marshal has not yet made an official determination of how the fire was started. The department, however, is actively seeking a man who is approximately 5'9" tall and weighs 160 pounds for questioning. A surveillance photo from the Casey's store shows he was wearing a dark hood or stocking cap. Also, he was last seen walking west on Jefferson Avenue around the time of the fire.
No one was hurt in the blaze. Hartley said the business's name, Mr. Bubbles, was suggested by his granddaughter at the time of its opening.
If anyone has any additional information, Sheriff Lee asks that they call the local law enforcement center at 402-768-6139.