U.S. 81 accident leaves woman injured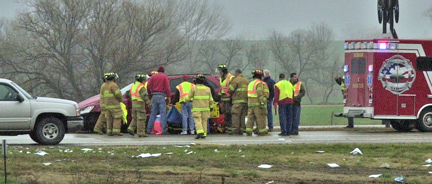 Update: A Lincoln woman was hurt Tuesday afternoon, April 9, after being involved in a crash with a semi trailer truck at the intersection of U.S. 81 and Highway 136.
According to Thayer County Sheriff David Lee, Mindi Fritton, Lincoln, was traveling west in her 2013 Dodge Journey on Highway 136 when she failed to come to a complete stop at the junction of U.S. 81.
Traveling south on U.S. 81, Adolf Neufeld, a semi driver for New Hope Transport in Manitoba, Canada, did not have enough time to avoid a collision as Fritton's vehicle continued its way across the intersection. Fritton told local law enforcement, she did not see the southbound 2013 Peterbilt semi.
Hebron rescue workers transported Fritton from the scene to Thayer County Health Services with injuries that were not life threatening. She was held overnight for observation and released Wednesday.
The driver of the semi was not hurt.