Hebron man escapes serious injury in winter accident – Fairbury woman dies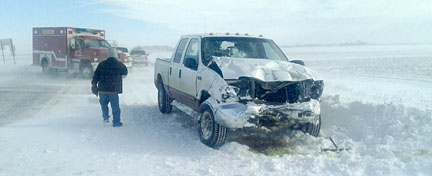 Tom Lohmeier says he's doing okay if a little shaken after escaping serious injury in a wintery accident Thursday morning, Jan. 31, near the Jefferson County and Gage County line that left a Fairbury woman dead.
Lohmeier, 61, of Hebron, was headed east on Highway 136 in his 1999 Ford 3/4-ton pickup when westbound Suzan L. Debourge, 54, of Fairbury, started to slide on snow and ice in her 2000 Suzuki Vitara SUV into Lohmeier's lane. Lohmeier, unable to stop in time, crashed into the passenger side of the oncoming SUV.
According to the Gage County Sheriff's office, strong winds creating white-out conditions and an icy roadway were factors in the 10:50 a.m. crash. Debourge was pronounced dead at the scene.
Lohmeier was taken to Beatrice Community Hospital and treated for a bruised knee and an abrasion on his forehead. Two passengers in the Lohmeier vehicle were not injured.
Seatbelts were used in both vehicles.