Heitmann inducted into Hall of Fame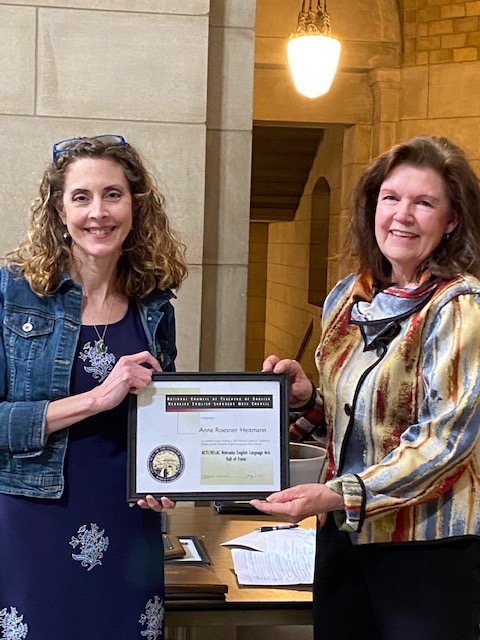 Recently retired Thayer Central English teacher, Anne Roesner Heitmann, was inducted into the Nebraska English Teachers Hall of Fame.
Heitmann, who taught English, Speech, Drama and Creative Writing for 30 years, was inducted in a ceremony at the Nebraska State Capitol Rotunda May 7.
Clark Kolterman of the Nebraska English Language Arts Council and National Council of Teachers of English presented Heitmann with her award.
"Anne Roesner Heitmann is a legend throughout Nebraska," Kolterman said. "She is not only an excellent teacher, but she is also an excellent speech coach, and as a result, she impacts students in many ways," Kolterman said. 
Prior to her 15 years at Thayer Central, Heitmann taught for 14 years at Fairbury Junior/Senior High School and spent her first year of secondary school instruction at Salina, Kan., Sacred Heart. Additionally, she taught classes for Southeast Community College and Marymount College in Salina.
In her time overseeing the classroom, Heitmann has mentored multiple state champions and nationally recognized students. These recognitions include student successes in Poetry Out Loud, American Legion Oratorical contest, Optimist Oratorical and Essay contests, NSAA and FCCLA speech events, Reading Classic, Nebraska Poetry of Place, Scholastic Art and Writing Awards and the NCTE Student Literary Magazine Awards.
Heitmann has also spent time at workshops, both individually and with students, alongside well-known Nebraska literary figures such as William Kloefkorn, Don Welch, Matt Mason, Twyla Hansen, Charles Fort and Kwame Dawes. One of her poetry career highlights was having dinner and a poetry exchange with Gwendoyn Brooks.
Heitmann also played a pivotal role in bringing many guest presenters to work with Thayer Central students.
"Anne Heitmann has done fantastic work spreading the love of poetry," Nebraska State Poet Matt Mason said.
This summer, Heitmann will be serving as a presenter for the Nebraska Arts Council session "Plunge Into Poetry" and has previously participated in the Poetry Foundation Summer Teachers Institute in Chicago and the Ford's Theatre Institute in Washington D.C.
Additional awards accrued by Heitmann include the 2016 American Legion Nebraska Teacher of the Year and the 2021 Thayer Central Marie Peithmann Polished Apple Award.