Steve Delay believed in community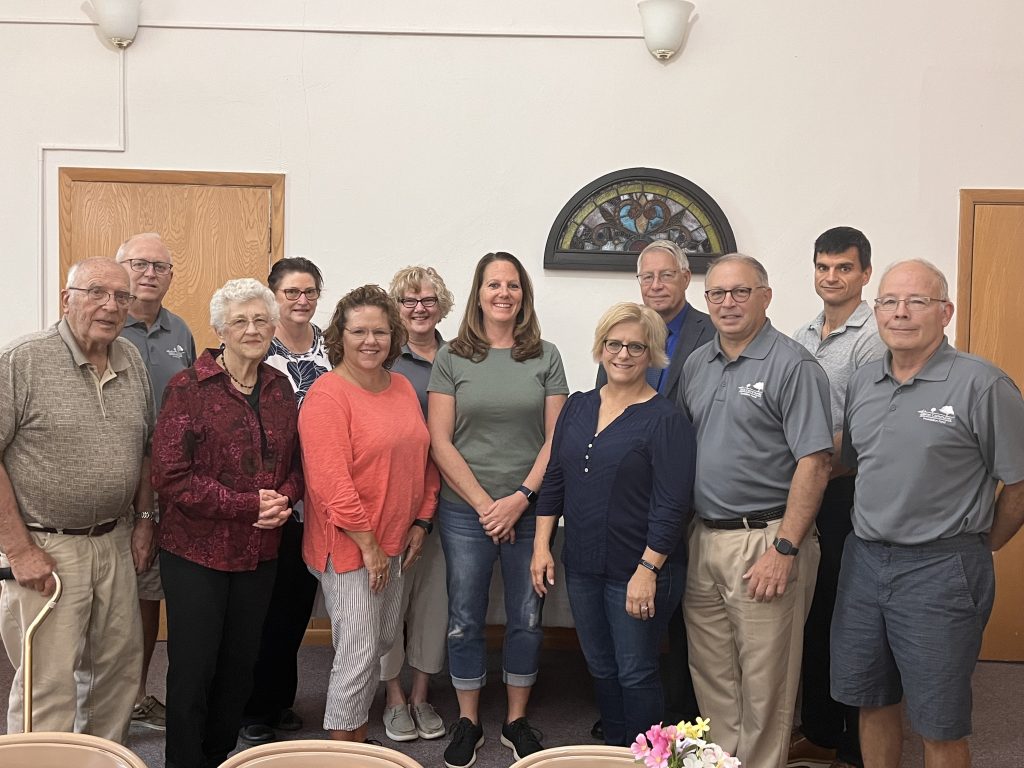 A teacher, mentor, friend, and lover of history, the Hebron Bears and quietly supporting worthy causes, who was also Chris Wing's beloved uncle, community pillar Steve Delay never stopped giving of himself to benefit others.
Steve passed away March 23, and six months later, Chris, in from Longmont, Colo., presented more than $300,000 in donations for Thayer County Historical Society, Hebron Presbyterian Church, Arts Council of Thayer County and Hebron Community Fund.
"As much as he loved his family, he loved his community. It was impressive," attorney Dan Werner said to the 11 members of the four organizations. "In his will, he gave and took care of family, but he really took care of community. He was extremely fond of his church." Dan had gathered everyone together in the church for the occasion that brought many smiles and a little sadness.
"I'm sorry to break up a little bit, but I have such fond memories of Mr. Delay. Chris will make these presentations and as you accept them, introduce yourselves to Chris personally. This group is active in the community and I know some of you represent several organizations," Dan said.
Chris wanted to make the donations in person.
"I really appreciate you coming together because I didn't want to just mail the checks. It didn't feel right," she said.
Steve's passion for history became clear to her over the years. She misses her "road trip guy."
"He would call and say 'Are you ready for a road trip?'" Chris reminisced.
On on the trips, they were headed to Ohio for the Football Hall of Fame.
"He was gleaming in there," Chris said. But the trips didn't come without lessons and on this particular journey, Chris learned about covered bridges.
"I never saw a covered bridge in my life. I didn't know anything about them. That trip turned into how many covered bridges can we find. It was such an adventure because we learned so much about the architectural part and the history," she said. "He just made history interesting, if that's even possible."
"I knew Steve a long time. I think he taught every one of our children," Jackie Williamson, curator of the Thayer County Museum Complex, said as she accepted Steve's donation for the historical society.
Steve had told Jackie when he retired, he was going to join the society, and that's just what he did.
"Steve was president at the time we were building the barn. Steve, Kent and I went to Iowa to see the barn and from there we got the barn. It's been a lot of good years with Steve," Jackie said.
She told the story of the museum and how she and Virginia Priefert gave presentations on Thayer County history to Steve's classes. It was Virginia's husband who wanted a building exclusively for agriculture, which led to the barn on the museum grounds.
"It was a joy to work with Steve," she said.
At the church, Steve was active, Don Crowder said before telling an anecdote.
"We always looked forward when we had covered dishes to see what he would bring. He was a pretty darn good cook," Don laughed.
"He loved to cook," Chris said.
"Chili was one of his favorites," Don said.
Chris explained chili was part of the reason for Steve's email address, "Pete Chili."
"There were no wimpy sandwiches at his funeral," Chris said. "Everyone got prime rib."
Don, who was the superintendent when Steve was a teacher, said Steve never had a problem with his students.
"That's because we were always under martial law," Pat Kenner said, drawing chuckles.
To Carlece Kenner, he will always be Mr. Delay.
"I was on a lot of committees with him. He was just a good example for us. Not only did he step in and donate his money, but he went to every movie. He didn't like chick flicks," she said.
Chris chimed in.
"He wanted to make sure we would go to the movie every time, even movies in other places. My sister always tried to smuggle in a bottle of water. He said you do not smuggle in anything, that's how theaters make their money," she laughed. "Until the day I die I will never smuggle anything into a movie theater."
Carlece, there to accept the donation for the Arts Council of Thayer County that oversees the Majestic Theatre, was also a student of Steve's.
"What I appreciate him about being a teacher, I wish I would have had him when I was older, I would have appreciated him more. I love history now," she said.
Deb Craig had a story about the theater many have not heard.
"He's one of the biggest reasons we have the theater," Deb said.
She went on to explain how Carla Gebers came to a meeting, where Deb was filling in for economic development and Steve had become part of the tourism committee.
"Carla came to the meeting and said 'I'm going to close. I can't afford the digital equipment,'" Deb said.
Steve came to her office the next day. Deb hadn't really worked with Steve, but Steve offered seed money to start saving the Majestic, literally behind the scenes.
"He said, 'You make some phone calls and organize a meeting,'" Deb recalled.
She later told Steve she had made 10 or 15 phone calls and had something like three yays and 15 nays.
"He said, 'That's all I need. Let's go,'" Deb said. "He was that influencer behind the scenes. We had our first big fundraiser at the Christmas Fair and he sat there all day, talking it up."
Although Pat joked he is just a volunteer popcorn popper at the theater, he said Steve's donation will be part of the Hebron Community Fund's permanent Endowment.
"We had such a great experience with the Korff Endowment. We've learned the grant process. It's a great way to let his gift be planted and provide benefits for years to come," Pat said. "It will plant seeds forever. We've a great young man stepping up. He's been trained in the Steve Delay give back to the community model."
That would be Aaron Peithmann, also a former student of Steve's.
"He was always in a suit and tie. No one was more prepared for class than him," Aaron noted.
Another former student, Kurk Wiedel, recalled Steve's method of teaching.
"It was always project-based. I carried that on to my fourth grade class, and Simon is doing that now because of Mr. Delay. I loved him. I ran out of his class and pretended I was going to throw up because I wasn't going to pass his test. I didn't want to disappoint him. He was such a kind soul," Wiedel said. His son, Simon, is a teacher in Gretna.
Kurk, who represents two of the organizations Steve donated to, the Hebron Community Fund and Arts Council, added Steve was partly responsible for his own teaching and school administrative career.
Ranae Hintz's children didn't have Steve as a teacher, however, they may have known him as a substitute teacher. Either way, they are very fond of Steve, she said.
"His impact is amazing. I'll just never forget when he would leave the board meeting, he would lay his hand on my shoulder and say, 'Ranae, not so many chick flicks,'" she laughed.
Rita Luongo was also at the church as part of the fund and Arts Council.
"He wouldn't leave a female at the theater by herself. I got to know him when I moved back to Hebron. I did do the visitor's committee with him and we would drive all over the state. Every town we drove through, he knew the history," she said.
"Once he knew you, he always knew you. He always had a way to connect," Deb said.
"He was a teaser," Carlece said.
"You could argue with him, but it was in a nice way, and he got his point across," Kurk said.
Chris had driven by Steve's former house on her way to the church.
"I think I want closure," she said. "Us five siblings, we were pretty much his kids."