HVFD drills for aircraft emergencies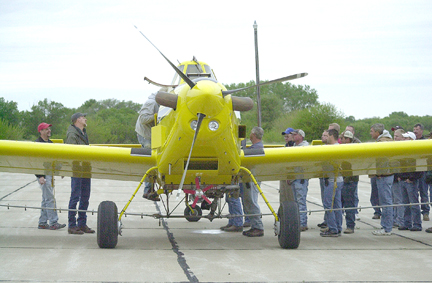 When Hebron Volunteer Fire Department member Justin Johnson found out the Hebron Airport Authority recently approved plans for an access and loading platform for aerial sprayers, he thought the local emergency volunteers needed to know a little something about the industry. "Just in case there's an emergency," he said. "Spray season is coming up and I thought it would be a good idea for our guys to become familiar with aircraft and what to look for should there be an emergency situation."
Johnson, a pilot of light aircraft himself, organized a special drill for the HVFD last week incorporating the help of aerial sprayers Rick Boardman and Troy Thomas. Both flew craft in to Hebron for a 'show-and-tell' presented to local volunteer emergency workers.
"The best way for me to help you understand what to look for in a plane crash or to tell you about aircraft is for you to ask questions," Boardman said to the volunteers.
Boardman, piloting a white 2010 Turbo Thrush spray plane, has been flying aircraft for 30 years – spray planes for 28 years and has his own company, Boardman Aerial Spraying, of Henderson. His company is affiliated with Aurora Cooperative.
Thomas has been a pilot since 1988 and has been spraying since 1991. He owns Shickley Air Service and brought to Hebron a bright yellow 2004 Air Tractor 402 for the demonstration.
Both pilots said the emergency scene in the case of a crash would most likely have the aircraft upside down on the ground. "The plane is light and will likely flip right over in a crash," Boardman said, and added that the pilots have the capability of dumping tanks before a crash, but it depended on the situation, mostly what they were flying over. The craft is capable of carrying 200 gallons of jet fuel and 500 gallons of agriculture chemicals, and could potentially create a hazardous material spill situation in an emergency.
HVFD members have experience cleaning up hazardous materials such as gasoline, oil and agricultural chemicals, but in an airplane crash, the damage could be more widespread.
Thomas said fires were not such a concern today as in the past since the craft's tanks are impact tested and have fuel shut-offs, but spills could still occur and wondered if the local firemen had any guidelines for hosing down an area.
Hebron's volunteers are trained in hazardous materials assessment and containment upon first arrival to an emergency, but none have ever included aircraft. And although they do not currently have guidelines or procedures for airplane emergencies, the HVFD will look to additional training now that the Airport Authority has  okayed a loading platform for sprayers. Spray season is generally condensed into July and August, but can take place all growing season up until the ground freezes, Boardman said.
During the course of the drill, and serving as a potential bonus for emergency workers, HVFD members asked if the sprayers could be used to douse fires. "Yes," Boardman said and added he has done so in the past. "I helped in a situation where the fire was next to a river and it was too muddy to take in ground equipment."
In the meantime, Johnson said he felt the drill turned out to be a good introduction to local firefighters of the different types of aircraft used by Hebron's airport.