It's Severe Weather Awareness Week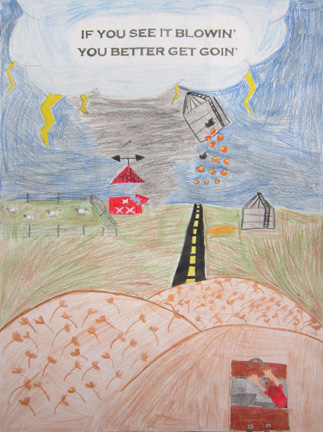 It's National Severe Weather week when emergency workers, volunteers, and management dust off equipment, test sirens and check emergency warning systems to make sure everything is up to snuff prior to the impending stormy weather.
Each year, emergency management systems and the National Weather Service rely on everyday people doing everyday things to inform them on developing severe weather. The National Weather Service says it values these reports from people on the ground who can see, in real time, exactly what is going on.
"Doppler radar is a wonderful thing," says Warning Coordination Meteorologist Michael L. Moritz, "but it has its limitations." Specifically, radar draws a straight line along the Earth's landscape, Moritz adds, so with each mile, the radar and land tend to separate as the Earth curves away from the radar. To understand what is actually happening on the ground, NWS relies on those who are physically outside watching the area.
Last year in May, the Nebraska Legislature signed into law LB573 changing the way spotters are trained. "You are now required to take a couple of online training courses," Moritz said during the annual spotter seminar for Thayer County March 1. The meeting, held at the Bruning Opera House, had approximately 45 people in attendance. "The courses are free, don't take very long to go through and there is a test at the end." Kansas storm spotters do not need to take the courses, nor do trained emergency workers.
The course, split into two segments, covers the role of the volunteer storm spotter, how to report severe weather and how to recognize severe weather events. Once the tests are taken, a certificate of completion is available to print as proof to your local emergency manager. Passage of the online course, as well as attendance at the annual seminar, such as the one recently held in Bruning, qualifies an individual to be a spotter.
In Thayer County, spotters are generally members of volunteer fire departments, the local law enforcement and other emergency workers who have a systematic means of communication as well as an emergency plan. But, Moritz said, anyone can be a spotter, because storms don't always happen where spotters are located. "Maybe you're the only one who sees golf ball sized hail falling at that particular moment in that particular location," Moritz explains. "If you know how, we'd like you to call that in."
Tornadoes occur in every month of the year, but until 2012, Nebraska had yet to see one in February. Then, this year at 4:15 p.m., on Tuesday, Feb. 28, an off-duty National Weather Service employee reported a tornado in Logan County making it the first ever spotted in Nebraska in the shortest month of the year. Although statistics only go back to 1950 with the advent of more careful records, typically, Nebraska gets most of its severe storms in May, June and July. On that day in February, however, Thayer County spotters were activated at about 5:30 p.m., when a tornado was spotted on the ground in Jewel County, Kan., making its way toward Chester.
At approximately 5:45 p.m., spotters along Highway 8 between Chester and Hubbell reported very heavy rain, but no hail or tornadoes occurred during its passage through the county. The rare storm caused 36 counties in Nebraska to  be placed in a tornado watch.
Later in the evening, at approximately 7:30 p.m., a second round of storms moving on 60 m.p.h. wind, dropped quarter-sized hail west of Hebron. Spotters were not activated, although some emergency workers were keeping an eye on the new line of storms moving through.
"Storms are unpredictable," Moritz said during the spotter seminar in Bruning. "They can go from a tornado that's a thin rope stretching down from the clouds to a cone that's one half mile wide in a matter of two minutes."
While witnessing a tornado in February and March in Nebraska is considered rare, three tornadoes struck the state Sunday signaling the stormy season is well underway. On March 18, two tornadoes hit North Platte while one touched down near Valentine. An EF3 hitting North Platte destroyed private homes and outbuildings and hit Union Pacific Railroad's Bailey Yard. Four people were injured in the storm.
Being "weather-ready" is Moritz's objective as he travels Southeast Nebraska giving the spotter seminars. "The reports we get from you make a big difference," he said to those in attendance at Bruning. "We appreciate all of your reports."
While Thayer County emergency manager Bill McPherson is grateful to those who spot for the area, he also wants to remind anyone who ventures out during a storm to be careful. "Remember the ACES acronym (awareness, communication, escape routes, safety zones) and that we are not only spotting for our town, fire district and the county, but we are also spotting for our neighboring town, fire district and county."