Lady Titans cross country claim SNC title – boys snag runner-up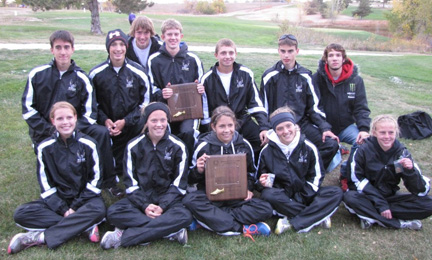 The Thayer Central Lady Titans cross country team eked out a win over Milford last week to take the team title at the Southern Nebraska Conference meet held at Centennial. The Titans finished with 28 points while Milford scored 29.
"This was a total team effort and I am really proud of all five girls," said Titans coach Andy Long. "In the last mile of the race, our girls passed a total of 11 runners to move up in their placing and take the first ever conference title in cross country for the district."
Madison Reece led the way finishing first among all the runners in a time of 16:54.4. Bailey Linton claimed the runner-up position over all in a time of 17 minutes flat. Rachel Heitmann also finished as a top contender in sixth place in a time of 17:43.6, while Shawna Timmerman ran the race in 18:42.6 for 19th place and Sydney Cottam finished in 20:32.4 for 23rd.
"Hopefully this will give our girls the confidence to compete very well at the district meet," Coach Long said.
Other team finishes included Wilber-Clatonia 47, Fillmore Central 69, Tri County 78, and Superior 85.
The Thayer Central boys were able to find the second place win scoring 45 points for the day. Milford won the division with 12 points.
"This is the first the Titans have placed in the top two as a team since Thayer Central won the SNC in 2001," Coach Long said. "I feel the effort our boys put forth in the meet-placing four in the top 20-says a lot about how hard they have worked all season. This should give them a tremendous amount of confidence heading into the district meet this week."
Russ Heitmann led the way for the Titans finishing fifth over all with a time of 17:54.5. Adam Hellbusch followed him in for seventh place with a time of 18:02.4 while Heath Fink finished 17th in a time of 19:19.2 and Ben Baden finished 20th in a time of 19:39.9.
Other team finishes include Tri County 53, David City 76, South Central 85, Wilber-Clatonia 87, Fillmore Central 93 and Superior 156.
The district meet is Thursday, Oct. 11 at Branched Oak Lake and begins at 4:30 p.m.