Licensed commercial kitchen available to public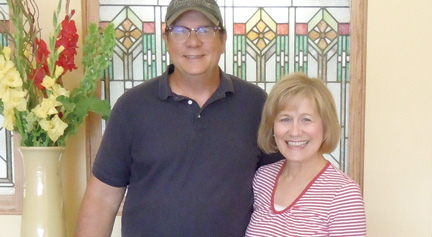 Harold and Barbara (Voigt) Stone are all about fresh, homegrown and locally produced food, especially living in the middle of the country's largest "garden," the Great Plains. With its rich, black soil, abundant sunshine and plentiful water sources, growing and producing food for the dining table should be, well, easy to do around here. But, as Harold quickly discovered after retiring to Barbara's hometown of Davenport,  acquiring freshly grown, locally produced food for the table wasn't as easy as it should be.
"What if we could locally grow and process all of the food we need to supply all of the grocery stores, restaurants, schools, and hospitals with all the fresh, canned and frozen food in our area," he wondered as he surveyed a virtual breadbasket of growing opportunities. "It takes only 250 acres of fruit and vegetables to feed every person in Thayer, Clay, Fillmore and Nuckolls counties. That's about 25,000 people."
In the last 18 months, the couple has taken this seed of an idea, planted it, nurtured it and turned it into a viable, realistic process. Establishing Stones Thoreau LLC, Stones Thoreau – Farm to Market Inc., and now, South Maple Street commercial kitchen, the partners are well on their way to bringing back the connection between farming and families that has disappeared over the last few generations.
According to the Stones, South Maple Street is a food-based enterprise that promotes community and economic development in rural Nebraska. "We are passionate about food and the role that food can play in renewing the vitality of rural communities," Harold says. "Our purpose is to create both food products and experiences that make a positive impact on people's lives and benefit the rural economy."
Located in downtown Davenport, the licensed commercial kitchen is built in a historic pharmacy building. According to literature available at the location, the business "boasts a sleek, commercial kitchen, an indoor farmer's market, and a gathering place. South Maple Street is available for rent for commercial use or for private events."
The South Maple Street kitchen is over 800 square feet, which can be rented by the hour, by the day, for a weekend, or as a long-term arrangement. "People can develop a product for retail sale, prepare food for a catering event, host a cooking demonstration or event," Harold said. "They can even gather the clan for putting up sweet corn."
The kitchen is equipped with a six-burner range with griddle and two standard ovens, two commercial convection ovens, walk-in refrigerator, stainless steel worktables, prep sinks, pots and pans, cooling racks, trays and cooking utensils, a steam table and commercial dishwasher. "If someone has a great recipe for pickles or mustard," Harold mentioned as an example, "we have three USDA certified canning supervisors available to provide guidance and assistance."
Before moving to Davenport, Harold was an extension educator in Harris County, Texas, specializing in environmental planning and policy. He was also a professor of urban and regional planning at the University of North Carolina. His most recent work before retirement was as a American Recovery and Reinvestment Act project coordinator and park ranger for the National Park Service in Washington, D.C.
Barbara is currently working as the state leader for Kansas 4-H programs and assistant director for Kansas State University Research and Extension, in Manhattan, Kan.
Harold is concerned that rural America, with all its wonders to offer, will be left high and dry as people migrate toward urban areas. He thinks the area has great food growing potential, as is evidenced by the working agricultural society that lives here, and is proposing a food system cooperative among four surrounding counties. He keeps a regular blog at stonesthoreau.wordpress.com.
"Collectively, we can grow, prepare and sell food, and turn the tide of rural decline," he says. "We need to find ways to hold our money here."
South Maple Street commercial kitchen may just be one way to do that.
For more information contact the Stones at southmaplestreet@gmail.com, or call 402-364-2278.