Loontjer back in jail on scamming charges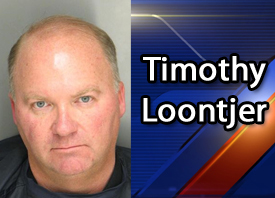 Update: Thursday, Feb. 9: Additional charges may be filed against Timothy Loontjer, 51, formerly of Deshler, who is accused of scamming several people in Lincoln. Lincoln Police Officer Katie Flood, said she received a call from a victim claiming that he and his friend lost $75,000 by consulting with Loontjer on a deal that fell through. Flood said Loontjer had a way to gain trust from people when it came to business ventures. So far, the total loss from Loontjer's scam is estimated at more than $158,000, Flood said.
Update: Tuesday, Feb. 7: Timothy Loontjer was charged with four counts of theft by deception and two of identity theft, each punishable by up to 20 years in prison. His bail was set at 10 percent of $50,000. He had not posted bail as of Tuesday night.

According to court documents, Loontjer's victims paid him to consult on at least three Lincoln real estate deals that never happend including the Kwik Shop at 44th and O St., which wasn't for sale, a house just off of North 14th St., and a downtown office building, all in Lincoln.

He is also accused of using one of the victim's name and social security number to take out a $34,794 loan that he told the victim was for $30,000.

The 51-year-old and former resident of Deshler was convicted of attempted theft in 2007 in Thayer County, and received probation. He stole cows from his brother-in-law. In March of 2008, his probation was revoked when he was convicted of writing bad checks in Dawson and Gage counties to buy cattle which he later sold.  He served almost two years in prison for those crimes.
Reprinted with permission: 10/11News.com:
Police have arrested a Lincoln man for a scam that cost his victims tens of thousands of dollars.
Police have arrested a former inmate for a scam that cost his victims tens of thousands of dollars. Timothy Loontjer is facing charges of theft by deception and criminal impersonation. Lincoln Police Officer Katie Flood says he used different methods to con over $83,000 from the victims. She says he presented himself as a consultant specializing in business development and financing. She says he even worked under a business name, Scott and Associates.
In one case, Flood says Loontjer promised to facilitate the sale of a Kwik Shop at 44th and O street to one victim. Over a 10 month period, she says the victim paid him $68,000. "Once there were some delays in the transaction. They decided to call the Kwik Shop corporate office. Corporate office advised they were not selling any of their businesses nor did they know Timothy Loontjer," Flood said. Police say Loontjer also promised to sell buildings to two other victims and exercise equipment to another. In all the cases, they say he took the money and didn't deliver. Police say he has served time in prison for similar frauds.
If you think you have been a victim or have more information, call Lincoln Police at 441-7203