Aeolus Energy pleased with incoming info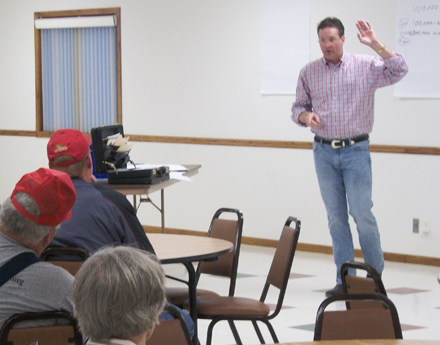 Data from the MET tower is better than predicted says Aeolus Energy spokeswoman Gina Hudson. "We're very happy with what we're seeing."

Although the group will collect data for at least another 12 months, preliminary reports are very positive Hudson said. "The more information we gather, the more validation we have."
Aeolus Energy, a group of local landowners backing a wind farm project installed the meteorological tower to measure wind in an effort to see how much electricity can be generated by wind turbines in Thayer County.

Introduced in 2009 by Alexandria native Gary Aksamit, the wind farm project encompasses a plan to cover 10,000 to 15,000 acres along Road Q (Monument Road) between U.S. Highway 81 and Nebraska Highway 53. Three lines of approximately 40 turbines will stretch across the eight to nine mile path.

Last August, Aksamit organized the installation of the MET tower located four miles east of Highway 81 on the south side of Monument Road. The $40,000 196-foot tower continually collects information.

"Now that people can see the tower, I'm getting asked all sorts of questions," Aksamit said last week. "Of particular interest is if the MET tower is as tall as a turbine. I tell them the hub of the blades on a turbine will be located approximately 50 feet above the top of the MET tower."

Aksamit, who lives in Texas, has been back to the area each month since the installation. During his visits he's been giving informational presentations and talking with local landowners face to face. Here in Thayer County, Gina Hudson is the local contact.

"We are getting positive feedback from landowners," Hudson said, "and lots of questions from others who are curious. The MET tower has generated a lot of interest in the community and we are doing everything we can to answer all their questions."

In February, Nebraska Extension released a warning to landowners that wind developers were moving into the area at a very quick pace and landowners should take their time before agreeing to anything.
Thayer County Commissioner Dave Bruning voiced his concern during a February meeting that landowners from Byron and Chester were getting hassled about signing agreements for wind development. "I want to put a warning out that they need to be aware of what they are signing or at least get an attorney to look over any contracts," he said at the meeting.

Aksamit understands the intense pressure felt by the local landowners "which is why I've always kept everything out in the open," he said recently. "I know these guys around here are getting pressured to hurry their decisions. Obviously we can't put turbines up overnight, we've been working on this project for two years now. Landowners have time to ask questions."

Aksamit said wind development is business, but he doesn't want to see anyone get hurt. "There is a way we can have a wind farm and the local landowners can own it," he said emphasizing that anyone can ask him questions anytime.

In the meantime, both Hudson and Aksamit say they continue to see serious interest in the project as each month passes, especially since the MET tower was installed.