Mitchell Participates In Warfighter Challenge
By Staff Sgt.
Christopher Holmes
FORT LEONARD WOOD, Mo. – Not many people would put themselves through four days of extreme physical and mental exhaustion just to prove they are one of the best at what they do, but the son of a Hebron couple recently did just that.
Army Sgt. Kevin W. Mitchell, son of Chuck and Lori Mitchell of Hebron, put his body and mind to the test during the Warfighter Challenge, an annual competition held to determine which of the 35 three-man teams can stave off pain and fatigue to be called the best in the Army's Military Police Corps.
"I felt that representing the Criminal Investigation Command [CID] and the military police regiment as part of the first Triple Strand team was a challenge as we got to set the standard for future Triple Strand teams," said Mitchell, a member of the 48th Military Police Detachment, CID, Fort Carson, Colo.
The Warfighter Challenge kicked off with a physical fitness test consisting of three minutes of push-ups, sit-ups with 25 pound weights, chin-ups and a six-mile run on the evening of day one and ended with a 15-mile endurance march with gear weighing as much as 40 pounds.
On day two the teams ran an obstacle course with 12 challenges, cleared buildings and detained suspected insurgents, spotted and reported improvised explosive devices hidden along paths, and performed a day and night land navigation.
Day three started out with a mixed martial arts style combatives tournament, zeroing weapons before completing a team move and fire event, driving in a simulater resembling driving a HMVEE through an urban environment and engaging targets and IEDs. The last event of the day was a night fire exercise.
Before the final 15-mile march on day four, the competitors had to take a written exam.
Mitchell and the other competitors trained to prepare for the competition without knowing exactly what skill sets would be tested.
"I went to Joint Base Lewis-McChord, Wash., to train with my teammates over all aspects of the MP corps," said Mitchell, a 2003 graduate of Thayer Central High School.
Even with all of the work before hand, there were one or two events that gave Mitchell more trouble than the others.
"The ruck marching with an extremely heavy ruck sack up long hills that never seemed to end was the most difficult part of the competition. It was also challenging because it required the knowledge of all three jobs within the military police corps," said Mitchell.
For Mitchell, being a competitor is an accomplishment, but finishing in the top of the field would make the four days of events that much more meaningful.
"I think that completing the competition is more important than winning it," said Mitchell, who has completed seven years of military service.
Military police have a very demanding job, and competing in the Warfighter Challenge proves that Mitchell and the 104 other contestants have what it takes to not only meet those demands, but to exceed them.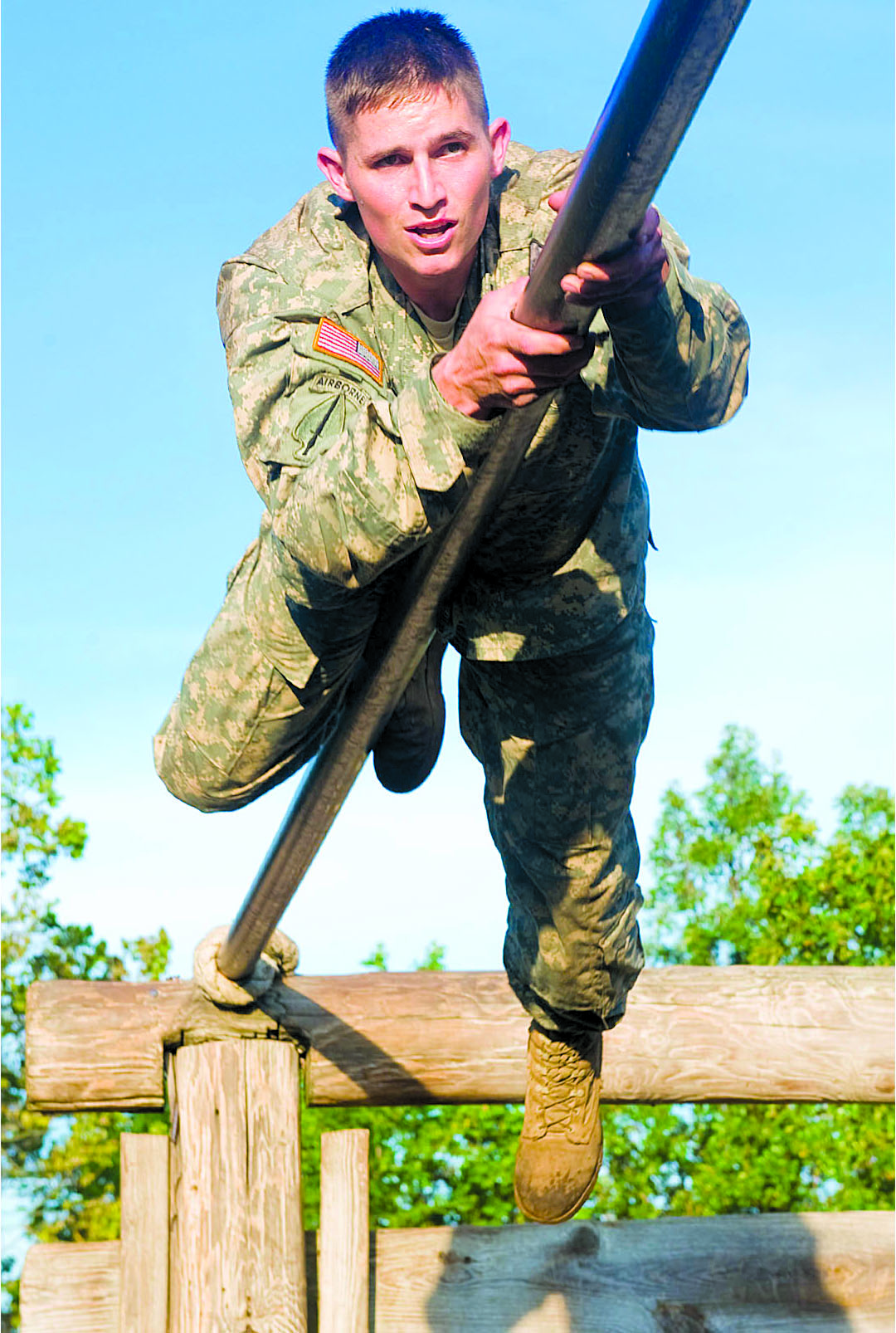 Army Sgt. Kevin W. Mitchell pulls himself across a pole on  the confidence course during Warfighter Challenge, an annual Military Police Corps competition held at Fort Leonard Wood, Mo.