Multiple Injury Accident near Chester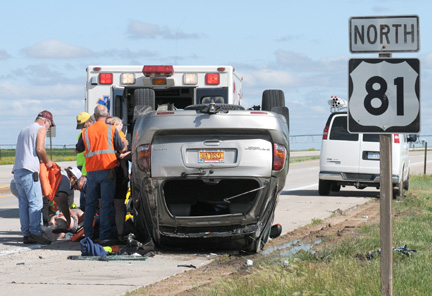 Thayer County law enforcement investigated a single vehicle roll-over at the intersection of U.S. 81 and Highway 8 Thursday morning, June 12. Three individuals were transported to Republic County Hospital with non-disabling injuries, the accident report said.
According to the report, Danae Federico, 45, of Scandia, Kan., said she was northbound on U.S. 81 when an eastbound pickup on Highway 8 entered the intersection. She said she did not think the pickup was going to stop and changed lanes to avoid a collision. She then swerved and lost control and the vehicle rolled on to its top.
Federico's 2002 Oldsmobile Bravada was totaled in the crash and she was taken to the hospital with visible, but non-disabling injuries to her back. A teenage passenger was also transported to the hospital with visible, but non-disabling injuries to her hip and upper leg, and a 20-month old infant was also transported to the hospital to be checked.
Both the driver and passenger were wearing seat belts and Sheriff Lee said he was happy to report that the infant was properly secured in a child seat and removed from the car seat while the vehicle was upside down. "Please always have your children properly secured and remember to buckle up," he said. "This accident could have been much worse."
Neither drugs or alcohol was suspected. Chester Fire and Rescue and Hebron Rescue answered the emergency call.