Pre-fair 4-H contests underway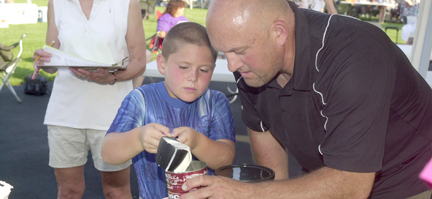 With the 2014 Thayer County Fair set to start in a week, several pre-fair 4-H contests will be held in the next few days. Already completed, 4-H members competed in the annual ice cream contest held during the Relay For Life event last Friday night.
Next up is the Favorite Foods, Company's Coming and Presentations contests during the day on Thursday, July 31, and later, at 7 p.m., the public fashion show and performing arts contests will take place.
Following the award ceremony, members of the Southern Plains Extension Board will be serving Centennial Ice Cream – a special flavored strawberry/vanilla blend with chocolate chunks from the University Dairy Store to commemorate the 100th anniversary of Cooperative Extension.
On Saturday, Aug. 2, the horse show begins at 9:30 a.m., and on Sunday, Aug. 3, the companion animal and dog shows will take place at 2 p.m. and 3 p.m., respectively.
All shows are held at the Ag Hall on the county fairgrounds in Deshler.