Quinones makes brave decision and a wish
Make-A-Wish granter Ric Horton of Seward has helped coordinate 52 wishes, and each time,  it's like the first time. 
He said that as Elijah Quinones of Bruning made his way toward the high performance UTV hauled to Elijah's home June 9.
"Hey mom, it has my nickname on it!" Elijah exclaimed as his mother, Daina held a bouquet of yellow roses with tears in her eyes.
"We actually had gone and looked at that exact one," she said following the presentation of the UTV to Elijah.
He was on crutches because Elijah, age 17, chose to have his leg removed after contracting Osteosarcoma, a common form of bone cancer that affects children and young adults.
Last summer, he fell while skateboarding and a bump on his left shin appeared. Walking was painful. Daina took him to the doctor, who said they needed to take the bump seriously.
Elijah went through an MRI. The bump was malignant and diagnosed.
They found out right after Christmas.
"That was a hard pill to take," Daina said.
The first surgery to remove the tumor didn't work. Elijah was also prescribed six cycles of chemotherapy with each cycle lasting five weeks.
Eighteen days after the surgery, Elijah developed a bad infection.
"We wanted to get back to chemo," Daina said. Postponing the treatments wasn't recommended. Elijah was faced with a choice to amputate, so the chemotherapy could continue.
"We prayed. It was his decision. For a 17 year old, that's the biggest decision of your life. He is so strong," Daina said.
She added Elijah knew the severity of postponing chemotherapy.
"That leg was bothering him so bad," she said. "He is really excited for his prosthetic. We just got fitted this past Friday."
They should be done with the treatment by the end of September, the month Elijah will turn 18.
"He is so ready to be done with all of this," Daina said.
Daina and Elijah were surrounded by family and friends as Midwest Automotive pulled up at the house with the UTV. It seemed everyone was wearing a Make-A-Wish T-shirt as Daina helped Elijah with his helmet and climbed in the seat next to him for the first ride.
A continuous smile replaced her tears as Elijah skillfully navigated the UTV, his second wish after he realized he wasn't going to be able to shift a 4-wheeler because of the amputation.
Daina was just as surprised as Elijah to see his wish granted.
"It's something he has been dreaming about. We're really excited for him," Melissa Davis-Schmit, regional director of the Lincoln Make-A-Wish location, said.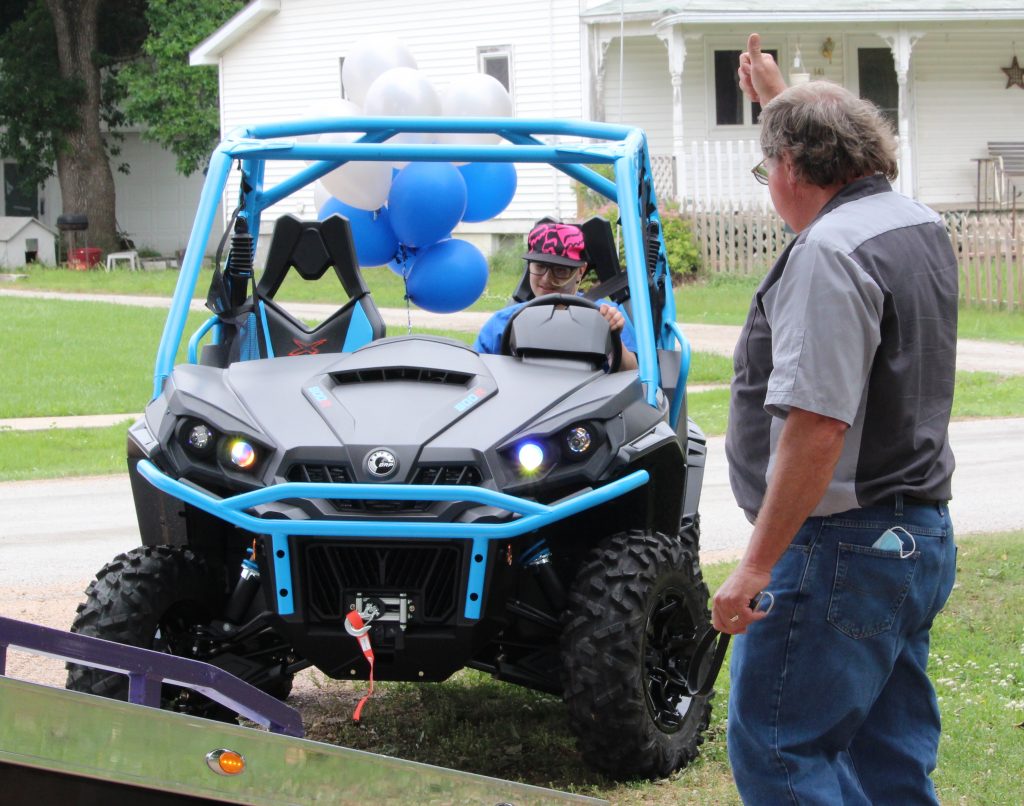 Mindy Lubeck, the organization's wish and development coordinator, was along for the presentation, as well as Jim and Lana Daws of Daws Trucking out of Milford. Craig Dittmar drove the Midwest Automotive trailer.
Horton was beaming as he watched Elijah. The moment was another chance for him to "pay it forward." His daughter, Teri never had the opportunity to use a computer delivered by Make-A-Wish. She had been diagnosed with leukemia.
He started granting wishes in 2005. Horton has waved his wand in Hebron, too, as Batman came to visit little Alex Vorderstrasse.
After Elijah zoomed to fill his tank with gasoline, Schmit said the Make-A-Wish crew was ecstatic.
"He needs something happy," she said.