Still time to catch the game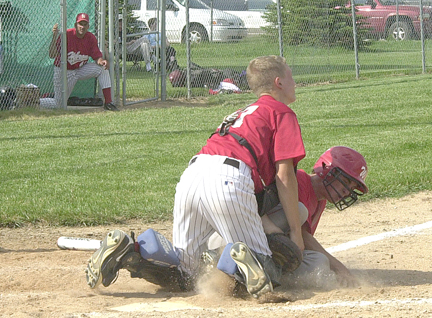 There's still plenty of time to catch Legion Baseball as both the Hebron Juniors and Seniors finish out their regular seasons at home.

For the upcoming holiday weekend, the Juniors will host Lincoln North Star in a double-header Saturday, July 2, beginning at 11 a.m. On Sunday, both the Juniors and Seniors host Lawrence.

Currently the Juniors are 6-6 as they approach the end of the season. Coaching the team are Mark Hintz, Kent Cottam and Loren Goedeken while the Seniors are being coached by Brad Firley and Russ Fangmeyer.

A complete list of final games for both teams can be found below:
(date-opponent-game time: jrs/srs):
July 2-Lincoln N. Star-11 a.m. and 1:30 p.m.-dbl header-jrs only.
July 3-Lawrence-5 p.m./7:30
July 6-Tri County-5:30/8 p.m.
July 8-Harvard-5:30/8 p.m.
July 9-Daykin-7 p.m.-srs only
July 10-Geneva-8 p.m.-srs only
July 11-Concordia-6 p.m./8 p.m.
July 15-Beloit-5:30 and 8 p.m.-dbl header-srs only
July 17-Belleville-7 p.m.-srs only
Area 5 district tournaments will be July 14-18 at Sutton for the Juniors and July 21-25 at Wymore for the Seniors.