ReinCoat LLC open for business
Galvanizing Facility to Employ 30 People, Keep Part of Reinke's Process at Home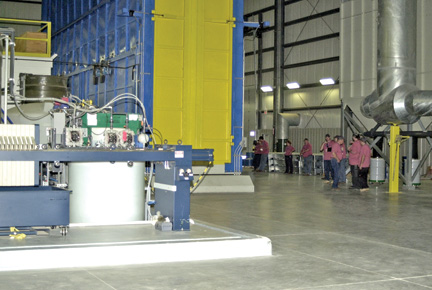 "It would have been so easy to open up the newspaper and see this company was going to open a facility overseas, but Reinke's made a committment to stay here," said U.S. Senate candidate Deb Fischer during a ribbon cutting ceremony for ReinCoat, LLC, last week. "This is a facility that makes Nebraska proud."
ReinCoat, LLC, is a $10 million, 35,000 square foot galvanizing facility expected to meet the coating needs of Reinke Manufacturing.  "The new facility allows us to bring our galvanizing operation in-house," said Reinke Manufacturing president Chris Roth during the ceremony. "We have always out-sourced these needs, but will now be able to stay here in Thayer County."
Galvanization is the process of applying a protective zinc coating to steel or iron to prevent rusting. Hot-dip galvanzing passes the metal through a molten bath of zinc at a temperature of 835 degrees Fahrenheit. According to Reinke literature, a kettle capable of holding 14,500 gallons and weighing approximately 95,000 pounds, or 47.5 tons, contains the zinc. A furnace weighing approximately 33 tons, heats the zinc. The molten zinc weighs 804,000 pounds, or 402 tons.
According to the literature, there are virtually no volatile organic compounds generated from the process which is designed to use very low levels of lead. And although an enclosure over the pre-treatment room was not required, Reinke's added it to improve overall working conditions. "This allows us to be better neighbors," Roth said.
Reinke Manufacturing galvanizes  pivots and trailers manufactured at the plant.
The local company currently employs 470 people, 20 at its Belleville plant.