Simple cruise turns into rescue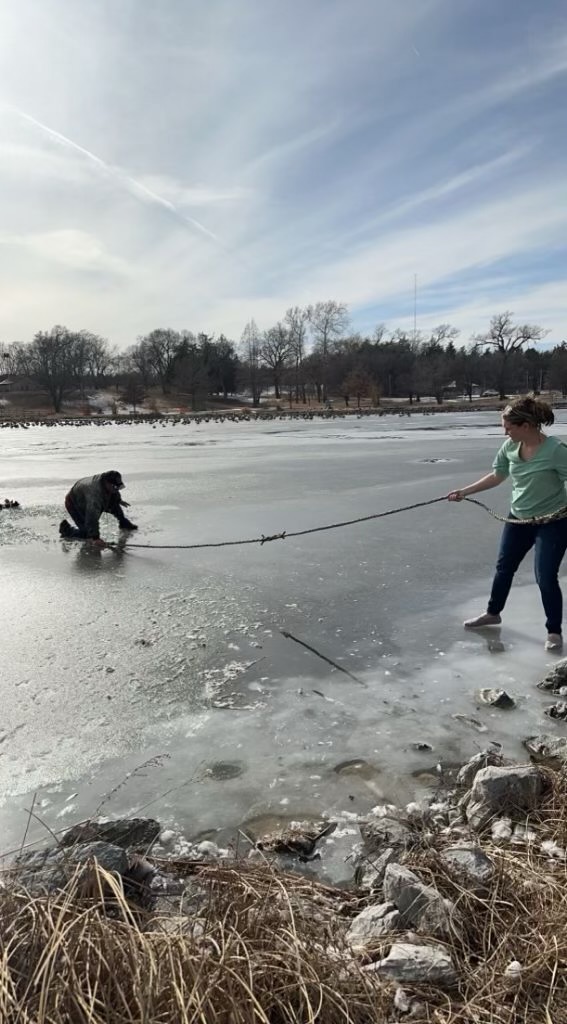 It was a beautiful day Feb. 4 as former Bruning resident Whitney (Holtzen) Garwood and sister Kimberly Mussman decided to take a cruise to soothe Garwood's young children.
"We went to Crystal Springs near Fairbury. There were quite a few people out there and a ton of geese," Garwood said.
In driving around the lake, Mussman pointed out a man was ice fishing, but Garwood didn't think so.
"It looked like he was in the water," Garwood said. She stopped and asked if he was OK.
"He said he needed help. He was waist level deep in the water and didn't have the leverage to get out," she said.
Garwood went for her jumper cables, but the man, an older gentleman, said he had a tow rope in his truck parked along the shoreline. She grabbed the rope and it wasn't long enough to reach him from the shore.
Garwood stepped onto the ice and said it took about five to 10 minutes to rescue him.
"The rope was a little extra boost for him to grab on," she said. "He was pretty shook up and then the police came. I think someone called 911."
The man was grateful for their help and he recovered at home. Garwood said she doesn't think he was injured.
The man had walked onto the ice to help a goose lying on the lake.
"His dog was circling, too. He was more worried about his dog than himself," Garwood said.
She didn't feel like the rescue was noteworthy.
"I was just doing what anyone else would in that instance," she said. "We were probably the first to respond. He was very fortunate there was activity out there."
At home in Ames, Iowa, where Garwood has lived for about 10 years, she is the director of radiology at Mary Greeley Medical Center.
"I think it's a good reminder for safety. Don't take ice lightly because it can become dangerous quickly," she said.