Thayer Central to present mystery farce – senior student writes script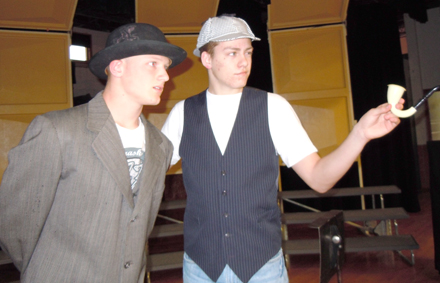 Wanda (proprietor of Raven's Gate Hotel): We have a convention of detectives arriving this afternoon. They all wanted to take a break from the fast-paced life of investigation and come together to relax and refresh their skills.

Veronica (maid): Well uh, Wanda, no offense, but why would they come here?

Wanda: Why wouldn't they come to the Raven's Gate Hotel? It has been the pride of my family for generations. Have I told you that President Calvin Coolidge almost stayed here?
And so begins "The Raven Dagger," a comedic murder mystery penned by Thayer Central senior Nathan Seaman who also gives credit to Thayer Central High School Instructor Anne Heitmann for tightening up some of the loose ends. "I've always liked writing stories," Seaman said during play practice last week. "And I had this idea for a script, so I went with it."
So did Heitmann, who incorporated the mystery for the Thayer Central stage. "We always adapt scripts to better fit our stage," she added. "It's a normal part of the process."
Seaman, who has participated in the school play all his high school career, said he wrote the play with Thayer Central in mind. "Some of us were talking about different ideas for a story and it suddenly hit us that we could write the script for the spring production."
Seaman said he started gathering his characters and plot in September and had the entire script ready for editing by the end of the Christmas break. He credits fellow classmates and creative writing teacher Heitmann with the editing. "We had three different endings, but through the editing process narrowed it down to one," he said.
The mystery, which includes a cast of nearly 20 players, takes place at a detective's convention at the Raven's Gate Hotel. The audience can expect to see Sherlock Holmes (played by Seaman) and Dr. Watson, Scooby Doo and Shaggy, and Inspector Jacques Cousteau to name a few, as the detectives gather for rest and relaxation.
Of course the ultimate crime occurs compelling all the detectives as well as everyone else to piece together the events leading up to the murder. The fun begins Friday,  April 29, 7 p.m., at the Thayer Central High School gymnasium, followed by an additional showing on Sunday, May 1, at 4 p.m. A matinee for students will also be held Friday afternoon at 1:45 p.m. "It should be a lot of fun," Seaman said.