The annual Thayer County Fair was a big hit again this year as well-attended grandstand shows, 4-H contests, a huge parade and visiting dignitaries came together in a host of activities. As always, the Hebron Journal-Register was there capturing the smiles, ribbon winners and fun times of the local festival and next week we'll present lost of photos and all the winners in open class and 4-H in our annual Thayer County Fair issue. You won't want to miss it!
The Thayer County Ag Society celebrated its 100th anniversary on the opening day of the fair by honoring Ed Wiedel (pictured center with plaque) as the oldest member of the Society still living. Wiedel also served as Grand Marshal of the traditional Thayer County Fair Parade. Pictured with Wiedel are current board members (l-r): Randy Wiedeman, President Dean Meyer, Bill Easton, Curtis Elting, Travis Freitag, Travis Miller, Eric Nutsch, Tim Wenske and Bob Dankenbring.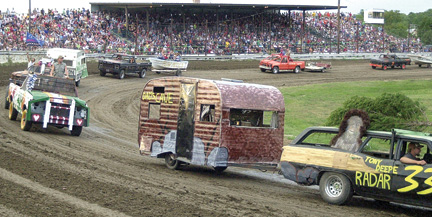 One of the most popular attractions at the Thayer County Fair is the trailer races. The grandstands fill to standing room only as locals pulling any trailer they can find race around the track in a battle for the purse. The Ag Society estimated the popular race brought in over 3,500 spectators.