Thayer County Museum offers historical view of Christmas carols in its annual parade of trees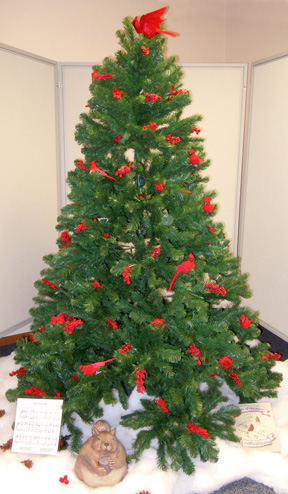 Each year Thayer County Museum curator Jackie Williamson calls together members of the community to decorate trees for the museum's annual parade of Christmas trees. Historical or community-minded themes determine the decorations year after year often telling a compelling story of the season in Thayer County.
Historical Society member Annette Laber is Williamson's "right-hand-lady" and stands at the ready to provide information as one wanders through at least 50 displayed trees. "This year we picked Christmas carols as our theme," she said Sunday afternoon while offering Christmas cookies and punch to visitors. "We invited anyone from the community to decorate a tree as long as it represented a Christmas carol."
While the decorated trees do indeed depict Christmas carols, more has been added to round out the visual appeal of the annual parade. Little tidbits of historical information about each carol accompany the decorations thereby telling a complete story of Christmas tradition in the United States.
From "The Friendly Beasts," probably the oldest carol on display, to "Over the River and Through the Woods," a Thanksgiving song turned Christmas carol, the trees highlight historical events throughout the pages of the past in a visually stunning arrangement.
The presentation runs through the first week of the new year – Jan. 6 – Wednesdays and Sundays from 1-4 p.m. Special appointments can be made for group or individual tours if those dates and times don't work, Laber said. Call Williamson at 402-768-6845 or Laber at 402-768-2327 for more information or to make an appointment.