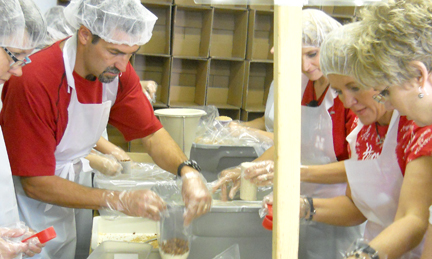 In 1621, the Plymouth colonists and Wampanoag Indians shared an autumn harvest meal that is widely accepted as the first Thanksgiving celebration in the colonies. And although days of thanksgiving were celebrated by individual colonies and states for more than two centuries, it wasn't until 1863, during the Civil War, that President Abraham Lincoln proclaimed a national Thanksgiving Day to be held each November.

The Pilgrims, during that first harvest, were a small group having lost more than  half of their people over the winter of 1621 to exposure, disease and starvation. The Wampanoag Indians befriended the Pilgrims through English-speaking Squanto, a member of the Pawtuxet tribe, and by bringing the newcomers food and teaching them how to live in the new land, virtually saved the lives of the small band of people.

Today, Thanksgiving is celebrated as a reminder of that first shared meal, and although feasts, parades and family gatherings mark the traditional holiday, the act of sharing abundance with those less fortunate remains the highlight of the holiday.

Numana Inc., a non-profit charity formed in August 2008 and founded by Rick McNary, of El Dorado, Kan., takes that concept to a higher level by enabling groups of people to help save the starving. The international hunger relief organization provides a hands on solution to hunger, and has to date, helped over 120,000 people make a difference for the malnourished.

In Thayer County, the Catholic Youth Organization (CYO) and Methodist Church youth group are part of that difference. On October 16, both groups traveled to Belleville, Kan., to participate in a Numana food packaging event, a program allowing volunteers to work in two to four-hour shifts packaging food for the hungry.

Each meal consists of rice, soy protein, freeze-dried beans, and chicken flavoring containing 21 vitamins and minerals targeted to help the immune system of malnourished people.

At the Belleville event, volunteers packaged 100,000 meals.

"Everyone was clothed in plastic gowns, gloves and caps for sanitation," said CYO leader and parent Kelly Schmitt. "Each item added to the meal had to be exactly measured, then we sealed the meals, labeled them and boxed them up for shipping."

According to Numana's website, when cooked in safe boiling water, a Numana meal has the base flavoring of chicken stock. Because the digestive system of a starving body cannot handle greasy, heavy, or highly spiced foods, the Numana meal is a basic starting point to build the body's digestive system back up and offer nourishment along with a mild chicken flavor.

Schmitt said the group was only allowed to work for one hour as Numana had so many volunteers. "They wanted everyone to get the chance to help," she said, "so we worked for our hour, then moved out so the next group could move in."
Founder and CEO Rick McNary writes online in a Nov. 12 blog that the locally packaged meals were sent to Africa and Columbia. "Too muchrain or too little rain translates into hunger for millions of people around the world," he wrote.

"In the recent week we sent containers of food to Africa where people are starving because of the famine and other containers to Colombia, South America where millions are left without homes or anything to eat because of flooding."

Volunteers are especially happy to hear the information included in the blog. "While we were working, we were told where the food was going and who was getting it," Schmitt said. "They told us that one of these meals feeds one child for a week. That's only one scoop per day."

Schmitt said the hands-on experience made an impact on not only the kids, but the accompanying adults as well. "It was incredible putting together and holding a meal in your hands that was going to feed a starving child," she said.