The Last Supper dramatized at Chester Auditorium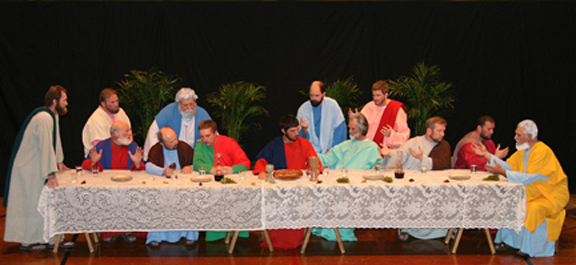 In celebration of Holy Week, area men presented The Last Supper at the Chester Auditorium to a packed house Sunday, April 17 and again Wednesday, April 20. The living dramatization of Leonardo DaVinci's famous painting emphasized the thoughts and words of the twelve apostles after Jesus Christ announces that one of them will betray him. The presentation also included music and worship.
Representing four area churches, Hebron and Chester men and the apostles they bring to life included (l-r): Standing: Rick Sourdyke-Nathaniel (Bartholomew); Mark Moore-James the Lesser; Randy Smith-Simon Peter; Rick Hintz-Thomas; and Mike Starbuck-Philip. Seated: Hugh Clark-Andrew; Randy Hissong-Judas Iscariot; Tyson Hissong-John; Devon Hartley-Jesus Christ; Bryan Williams-James the Greater; Drew Harris-Matthew; Josh Woellhof-Thaddeus; and JB Bratton-Simon the Zealot.