Titan men win C3 districts – Thayer Central qualifies 9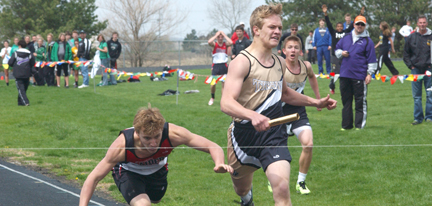 The Thayer Central Titans claimed the C-3 district track and field title Thursday in Geneva behind the 1600 and 3200 relay teams and first place wins by freshman Simon Wiedel in the 100 (:10.7) and 200 (:22.1) dashes.
Wiedel went on to place second in the triple jump (43'7") and third in the long jump; however, his leap of 21'1" met the qualifying standard for that event bringing the newcomer's performance level to four events at the state venue.
The 1600 relay team consisting of members Kalen Wenske, Jared Marsh, Trev Mumm, and Jamie Lange, finished the circuit in 3:33.6 for first place qualifying the team for the state meet this week.
Wenske, Marsh, and Mumm joined up with Russell Heitmann in the 3200 relay to cross the finish line in 8:20.19 for first and a state qualification. The Titans caught a lucky break as the Southern team was leading down the stretch when the anchor collapsed to the pavement allowing Marsh to cross the finish line first and claim the victory.
Senior Kalen Wenske went on to qualify for a third event after finishing the 800 race in 2:03.73 for second place and classmate Greg Dightman managed to finish second in both the 100 (:10.7) and 200 (:22.4) dashes to qualify for the state meet. He also collected a silver medal in the long jump after leaping 21'11.5" bringing his state qualifying events to a total of three as well. Rounding out the Titan contenders for state was senior Dalton Kenning who finished second in the pole vault with a jump of 13'2".
For the Lady Titans, junior Megan Bulin will return to the state venue after earning a silver medal by pushing the shot 37'1".
The Class C state meet gets underway Friday morning, May 17, at Burke Stadium in Omaha and continues Saturday morning through the finals in the afternoon.
A complete schedule with student lane assignments and event times can be found at the Nebraska School Activities Association website.