All three basketball teams advance in subdistrict tourneys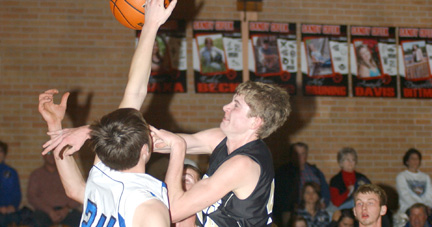 C2-3 Subdistrict

Thayer Central advanced to face Sutton this Thursday in the C2-3 subdistrict final after defeating Blue Hill 62-37 Tuesday night. The tourney is being held at Sandy Creek.

No. 4 ranked Sutton in Class C2, defeated Superior 81-15 in the first game of the tourney Tuesday night.

Against Blue Hill, the Titans closed out the first period 14-11 before going into the half 27-19. Russell Heitmann led the offense posting 14 points while Trenton Tietjen put up 11 and Brayden Hergott added 10.

Other scoring included Kalen Wenske 8, Macaulay Mumm and Tyler Van Cleef 5, Jay Cottam 3, Greg Dightman, Cody Mumm and Brian Loontjer 2.

The subdistrict final begins at 7 p.m.

D1-2 subdistrict

Both Bruning-Davenport/Shickley and Deshler won their respective games Tuesday night in the first round of the D1-2 subdistrict tournament.

The wins will pit the neighboring teams against each other on Thursday night where only one will advance to the district final next week. In regular season play, Deshler defeated BDS 50-48 on Dec. 13.

In the BDS's first round subdistrict contest Tuesday night, the Eagles defeated Heartland 49-40 behind Ryan Tegtmeier who scored an outstanding 41 points in the contest. Mike Houchin and Kendrick Holeman added four each for the total 49 points.

In Deshler's contest, the Dragons defeated McCool Junction 49-35. Luke Dlouhy led the way posting 25 points while Lane Baker added 17. Kyle Dlouhy and Brett Finke scored three points each while Clay Jones added one.

Thursday's game begins at 7:30 p.m., and will be played at the York High School.