Area senior centers work together
Several volunteers and employees make it possible for seniors around the county to get a nutritious meal once a day.
The process starts early in the morning and isn't complete until late in the afternoon. The meals begin at the senior center in Davenport. This is where Janet Voss, kitchen manager, prepares the meals and gets them ready for delivery.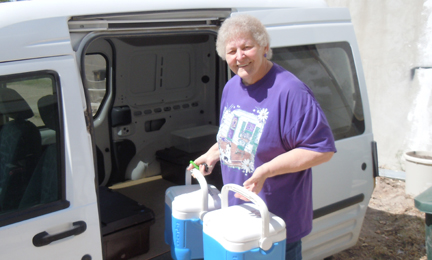 Before the meals can even be prepared, Voss must plan ahead by creating menus for upcoming meals. She must follow several requirements. Each week she is required to prepare two beef entrees, one pork entree and two of either chicken, fish or turkey. She also tries to include fiber and vitamin C. Voss works to include fresh raw vegetables when she can. All food included must be from certified sources with the exception of fresh garden produce.
These meals are prepared for an average of 100 Thayer County citizens five days a week.
"I always tell people it's like doing a small wedding reception every day," Voss said.
To read the rest of this story please subscribe or pick up a copy of the Hebron Journal-Register.