Bald Eagle found shot near Little Blue River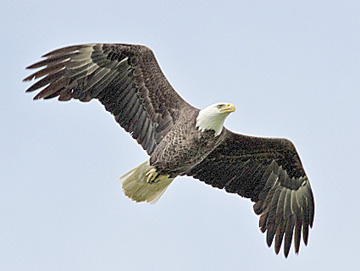 The Nebraska Game and Parks Commission is asking the public for information in the shooting of a bald eagle in Jefferson  County. Southeast district conservation officer Darin Gress said the bird was found along the Little Blue River on the Jefferson/Thayer County border.
The Game and Parks is interested in any information from the public, Officer Gress said, and any information will be confidential. "There is a possible reward for creditable information," he said.
The bald eagle is protected by the Bald and Golden Eagle Protection Act even though the birds no longer appear on the Endangered Species list. This law, originally passed in 1940 and amended in 1962, provides for the protection of the bald eagle and the golden eagle by prohibiting the take, possession, sale, purchase, barter, transport, export or import of any birds, dead or alive, including the nest or any eggs.
"Take" includes pursue, shoot, shoot at, poison, wound, kill, capture, trap, collect or disturb.
The bald eagle is the national bird of the United States.
Anyone with information can call the local Game and Parks officer at 402-768-8665, the Wildlife Crimestoppers at 1-800-742-7627 or USFW Agent Mike Damico at 308-534-0925.