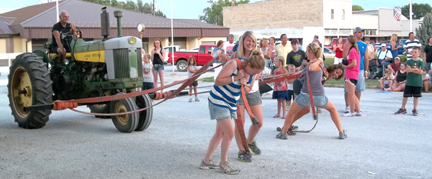 The community of Bruning celebrated its 125th anniversary over the weekend with a slate full of activities including an adult tractor pull. Pictured above: Realization of the tractor's weight dawns on women's team members (l-r) Kim Mussman, Whitney Holtzen, Bethany Bechtold and Jody Johnson as they attempt to budge the solid John Deere tractor in downtown Bruning Saturday evening. Some of the activities included ball games, a children's tractor pull, melodrama, fun run and parade.
Paula Koehler Deisley 5K winners:
Elementary: Tori Oestmann, Izzy Oestmann, Elijah Keilwitz, Jack Birky. High School: Melissa Rosquist, Juan Rodriquez, Jayden Otto 18-24 years old: Holly Donahue, Cassie Tucker, Jace Bausch. 25-35 years old: Jody Johnson, Abby Bruning, Mitch Litchti, Tony Norder. 36-49: Katina Gordon, Penny Birky, David Frook, Doug Meyer. 50+: Mary Johnson, Wes Hochstetler, Gene Dandlinger.
Li'l Tuggers tractor pull winners: (age-girl-boy) 4: Lucy Morrissey, Cole Vorderstrasse; 5: Hayley Sliva, Gabe Movine; 6: Alexa Houser, Kale Fountain; 7: Jessalyn Hudson, Easton Weber; 8: Taylor Sliva, Trevor Ozenbaugh; 9: Shakira Sunday, Alfonso Pena-Lopez, Jr.; 10: Olivia Ozenbaugh, Holden Williams; 11: TaraLee Hudson, Glenn Meyer; 12: no girl entry, Shevin Solomon.
Softball: There were eight teams in the two-day, double-elimination tournament.
More photos of the day's events can be found by visiting our online photo site. Simply click on the photos prompt at the top of this page.