Chase results in capture and arrest of two Lincoln teens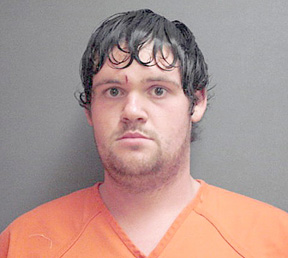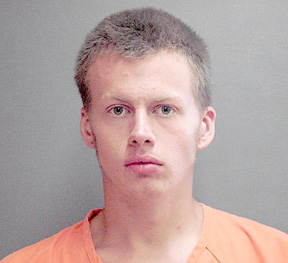 Numerous charges over four counties expected.
Lynn Vieselmeyer and Dayton Hunt, both 18 and both of Lincoln, will face several charges stemming from a crime spree that extends to four counties including Thayer County. The spree included the destruction of two vehicles stolen from a Lincoln dealership, a burglary in Fairbury and manhunt that lasted almost three hours.
Following their arrest Wednesday afternoon, Sept. 26, both teens were being held in the Thayer County jail for criminal mischief, possession of stolen property and obstructing a police officer, said TC Sheriff David Lee. "It is anticipated that Lancaster, Jefferson and possibly Gage counties will issue warrants," he said. "Information was gathered tying them to crimes in those jurisdictions."
According to a press release issued by the Thayer County Sheriff's Office, a 911 call was received at approximately 8:48 a.m., that a vehicle was on fire four miles east of Hebron on River Road.
Upon arrival at the burning vehicle, Hebron Volunteer Fire Department Chief B.J. Linton pointed out two males running across a field to the river. A witness said they had seen the two teens jump out of the burning 2008 Ford Explorer and start running across the field.
Thayer County deputies, Nebraska State Patrol troopers and a Nebraska Game and Parks officer set up a perimeter and began searching the river area and nearby farmsteads. At about 11:30 a.m., nearly three hours after the search began, conservation officer Darin Gress found the teens hiding under an old grain truck near the river about a half mile west of where they had initially crossed.
The spree is suspected to have started Tuesday night, Sept. 25, when an employee at Noodles and Co. in Lincoln told police he heard a loud bang at about 10:45 p.m., and when he went outside saw that a black 2005 Ford Focus had been crashed into a support pillar in front of Chipotle Mexican Grill on Pine Lake Road  near Noodles and Co. Investigators believe Hunt and Vieselmeyer stole the vehicle from Anderson Auto Group and crashed it into the pole.
Lincoln authorities believe the two teens then returned to Anderson Auto Group and stole a 2008 Ford Explorer, the vehicle discovered on fire in Thayer County on Wednesday morning. Sheriff Lee said evidence found inside the SUV also linked the teens to a Tuesday night burglary in Fairbury.
According to a press release issued last week from the Fairbury Police Department, Hunt and Vieselmeyer were suspected of breaking into and stealing items from the Pla-More Lanes in Fairbury. The teens are thought to have gained access to the business by removing  metal bars and breaking the glass of windows in the alley. The suspects are thought to have taken an undisclosed amount of change, multiple bottles of liquor, cigarettes and a bowling ball bag, which were all found inside the burned SUV on River Road. It was later discovered the SUV was stolen from Anderson Auto Group.
Hunt and Vieselmeyer are facing burglary and vandalism charges in Fairbury. Both are currently being held in the Thayer County jail.