Commissioners talk computers, cars, coyotes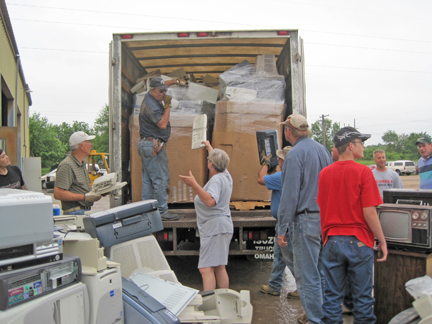 Courtesy photo – Thayer County Commissioners in conjunction with Trailblazers, Little Blue NRD, Thayer County Economic Development Alliance and Boy Scout troop 333, held a computer recycling day June 10 at the County Roads Department. The four-hour event brought in 33,740 pounds of recyclable equipment.
Thayer County Commissioners tackled a couple of lengthy agendas this month while also holding an electronic recycling event that netted 33,740 pounds of old televisions, computers, copiers, microwaves, cb radios, telephones and one dehumidifier.
The event is made possible by a DEQ (Department of Environmental Quality) grant and is held in conjunction with Trailblazer, Little Blue NRD, TCEDA (Thayer County Economic Development Alliance) and Boy Scout troop 333.
"We lost our coordinators for our recycling events when the government shut down the RC&Ds," said TCEDA director Arlis Hohl. "But the Trailblazer organization still has a board." Hohl said its members are appointed by commissioners from each of the seven-county area and the board intends to continue with the annual recycling programs.
Thayer County has extended its events to three including tires, electronics and hazardous materials. "We will be applying for grants for the tire and hazardous materials events soon," Hohl said, "so we can continue with those collections."
For the recent electronics collection, Hohl said 16 volunteers helped fill four trucks full of old equipment. All three commissioners also lended a hand.
On Wednesday, the county leaders approved four village contracts with local law enforcement including Bruning, Davenport, Deshler and Hebron. The payment, which is based on man-hours, allows the county police to enforce city ordinances as well as add additional patrol hours above the standard county hours.
Bruning and Davenport pay $950 a month for the extra amenities while Deshler pays $2,520 and Hebron pays $11,796.
The commissioners also approved a new Chevrolet crew cab pickup truck for the local law enforcement. Two bids were read Wednesday, June 29 including one from Husker Commerical Fleet of Lincoln for a 2011 Chevrolet pickup for $33,950 and a state-bid crew cab pickup for $22,556. The commissioners opted to take the state-bid pickup.
In other business earlier this month, the commissioners approved $7,010 to the area wildlife management; the price is average in comparison to surrounding counties. Fillmore and Clay counties spend approximately $7,000 for the wildlife service Adams spends around $9,000 and Hamilton spends $5,000. The request from Thayer County was identical to last year, said wildlife specialist Spencer Nelsen.
In his annual report to the commissioners, Nelsen said coyotes are a real problem in Thayer County and he spends the majority of his time here trying to control their movement.
"A dominate pair – a male and a female – work together, so we need to remove the dominate pairs to clear an area," he explained. "But if we remove one pair, another pair close by will likely move in. The coyotes are very healthy in Thayer County and very numerous." He said he has seen no mange or other diseases on the animals and he thinks on average they are bigger than they were ten years ago.
Nelsen said the management service tries to stay low-key in removing the animals. "We don't want to go in and across the board, kill coyotes," he said. "We try to take the minimum number of animals to solve a problem."
Nelsen said there are so many badgers and skunks that he can only take the time to address the serious calls such as a badger under a propane tank. And snapping turtles are prolific, he said.