Four departments fight fire, wind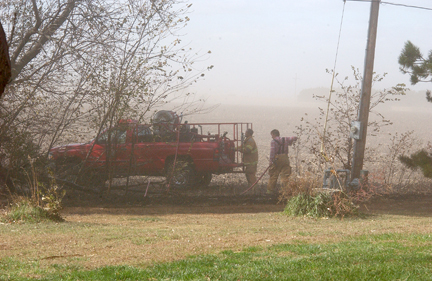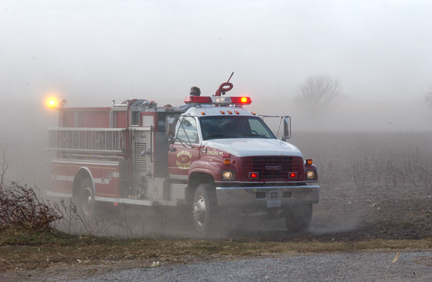 A bean stubble field fire had Chester volunteer firefighters on the run Wednesday afternoon as ferocious winds helped fuel the blaze. Within minutes, Hubbell, Byron and Deshler fire departments were called in to assist.
At 1:45 p.m., Oct. 27, the field fire breaking out in a field just west of Chester, quickly threatened the community as winds out of the northwest in excess of 30 m.p.h. spread the blaze toward town. According to Thayer County Deputy Dale Reece, residents along Church Street used garden hoses to douse the fire as it neared their backyards.
Thayer County hasn't seen much rain in the last month, and with the dry conditions and stiff winds, the blaze had plenty of fuel. Several volunteers brought tractors with disks to the area to churn the stubble into the dirt which helped slow the fire, but sparks were carried to nearby trees and bushes that edged the field between it and the town. Stretching about a quarter of a mile, the blaze burned on both sides of Highway 8.
Firefighters were still working on the blaze at 4 p.m., Wednesday. The blaze is thought to have started when strong winds helped spark a week-old burn pile near the area. There were no injuries and no reports of damaged property.
On Friday, Oct. 30, at 3:15 p.m., Byron and Deshler fire departments were again called out to assist Hardy fight a field fire near Hardy. It too is thought to have started when winds helped spark an old burn pile.