Retired history teacher treats students to "Lincoln"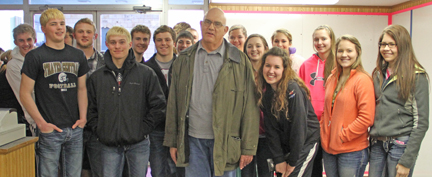 Retired history teacher, Steve Delay, asked the Arts Council of Thayer County (ACT) to bring the movie "Lincoln" to the Majestic Theater to share his passion for history with all residents of Thayer County.
ACT also collaborated with Delay to provide a special showing of the movie on Thursday, Feb. 28 for all the junior class students from Bruning-Davenport, Thayer Central and Meridian. All tickets were paid for by Delay.
Since Deshler was unable to attend, he provided tickets for those students to attend one of the regularly scheduled show times. "Lincoln" is a 2012 historical drama film directed and produced by Steven Spielberg, starring Daniel Day-Lewis as United States President Abraham Lincoln and Sally Field as Mary Todd Lincoln.
The film is based in part on Doris Kearns Goodwin's biography "Team of Rivals: The Political Genius of Abraham Lincoln," and covers the final four months of Lincoln's life, focusing on the President's efforts in January 1865 to have the Thirteenth Amendment to the United States Constitution passed by the United States House of Representatives.
Pictured above: Steve Delay (center) attends the movie with students from area schools.