Friday marks 25 years since Christmas Eve tragedy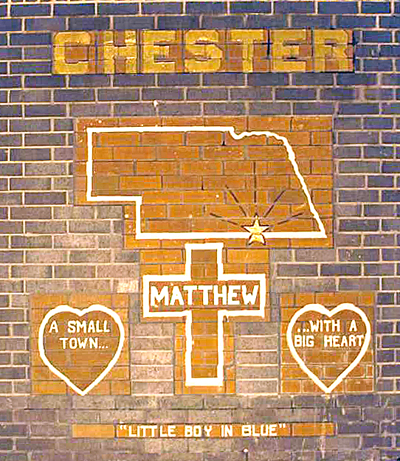 This Friday, Christmas Eve, will mark the 25th anniversary of the night Danny Stutzman was found dead near Chester. Through past articles and comments, the Hebron Journal-Register takes a look back at the events surrounding his story.
Hebron Journal-Register, Jan. 1, 1986–Kim Johnson: The identity of a dead boy, found near Chester last Tuesday, still eludes authorities who were surprised when a boy they thought was the dead youth was found alive and well in Hanover, Kan., just south of the Nebraska state line, this past weekend.
Thayer County Attorney Dan Werner said, "We were very surprised when the boy we were seeking turned up alive and well. We thought we had identified the dead boy.
"Who would abandon a boy so near Christmas on a lonely county road? The location where the boy's body was found (one and three-fourths miles northeast of Chester) was not necessarily secluded, but not viewable from traffic coming from the north. And to see it from the south, you would have to be looking at the spot at just about the instant your vehicle passed. It was not in a ditch, but rather in tall weeds about 12 feet from the roadway."
Abandoned Prayers, Gregg Olsen, copyright 1990: [Chuck] Kleveland drove east on Harlan Street [Chester] before turning north on U.S. 81, a trace of snow mottling the road's shoulder. He could have stayed on 81 and been in Hebron in fifteen minutes, but instead he made a quick right on a farm road bordering a local corn grower's spread.
He took a left and drove north, squinting as he scanned the slightly hilly terrain.
From the corner of his eye Kleveland saw a small bit of blue against the brown and gray field. The color was out of place in the dull winter landscape.
Standing at the edge of the roadside drainage ditch, he looked into the field and immediately spotted what had attracted his attention. Partially hidden in a brambly nest, the spiky remnants of yard-tall prairie grass, was a dead body.
Hebron Journal-Register, Jan. 1, 1986–Kim Johnson: Werner and Thayer County Sheriff Gary Young arrived at the scene where the boy was discovered minutes after being notified and sealed off the area until the Nebraska State Patrol mobile crime unit could arrive to search the area for evidence. Also participating in the investigation are the Kansas Bureau of Investigation and the FBI.
Hebron Journal-Register, Jan. 15, 1986–Kim Johnson: Thayer County Attorney Dan Werner said there have been no major breakthroughs or developments as to the identity of the dead boy found last month on Christmas Eve near Chester. The boy's body is being kept preserved in cold storage for identification.
Hebron Journal-Register, March 26, 1986–Kim Johnson: Thayer County area residents filled the Chester United Methodist Church last Friday to say goodbye to a boy they named Matthew. Although they never knew the lad, residents named him Matthew, which means "gift of God," and will be added to his headstone.
Over 400 persons attended services in the church for the 9-12-year-old youth.
Rev. Jean Samuelson said the boy's death shows the need for compassion by all of society. "This boy and his death touched our residents in the Chester community. Even with faith, death is shocking, and the greatest of all is the death of a child. We feel cheated when the child is not given a chance to grow up. In this memorial service for one of God's little ones, we do not have any memories of the boy's life. The child is safe now. He has a name and home. God has claimed him."
Following the funeral service, the boy was laid to rest in the village cemetery with a headstone which said, "Little Boy Abandoned, Found Near Chester, Neb. Dec. 24, 1985."
Hebron Journal-Register, Dec. 2, 1987–Kim Johnson: Thayer County Law Enforcement officials are busy pursuing "the most promising lead in 18 months," into the identity of the unknown  boy, whose body was discovered on Christmas Eve northeast of Chester in 1985. Most Thayer Countians know the unknown boy as "Matthew" or "Little Boy Blue," as his body was discovered dressed in blue pajamas.
In the Dec. 1987 issue of Reader's Digest, roving editor Henry Hurt wrote a feature story on "Matthew," the unknown boy and the outpouring of concern from Thayer County area residents.
That story prompted a person in Ohio to call Thayer County Sheriff Gary Young and asked him to contact a family in Wyoming.
People Magazine, Feb. 22, 1988–Margot Dougherty: Thayer County Sheriff Gary Young, received a call at his Hebron office telling him that the Chester post office was holding a mis-addressed envelope for him. The stocky lawman, seven years in office, hopped into his squad car and drove the 12 miles to the post office, thinking all the while about "Matthew." He had never believed, as others had tried to , that the boy had died of natural causes and been left by the roadside by parents who couldn't afford to bury him.
A few minutes later, sitting behind the wheel of his car, Young ripped open the envelope with the Wyoming postmark. He saw the enclosed snapshot, a photograph of a grinning, tousle haired blond boy with a missing front tooth. Over the past two years he had received more than a thousand tips; this one, he knew, was the best.
The resemblance between police photos of the dead "Matthew" and the boy whom the woman from Wyoming called Danny was unmistakable. Returning to Hebron, Young contacted the woman and asked for medical and dental records and objects that might have the boy's fingerprints. He also obtained an arrest warrant for the boy's father.
On Dec. 14, identification of the body was confirmed through a palm print on Danny Stutzman's third-grade report card from the Urie Elementary school in Lyman, Wyo.
Hebron Journal-Register, Dec. 9, 1987–Kim Johnson: This newspaper has learned from The Repository, Canton, Ohio's daily newspaper, that Danny Stutzman was born on Sept. 7, 1976, to Amish parents Eli and Ida Stutzman (…at his home in Dalton, Ohio). Ida died in a barn fire at the couple's farm two miles south of Dalton on July 12, 1977. She was 26.
A physician, Dr. Elton Lehman from nearby Mount Eaton, Ohio, delivered Danny at his home. He is working with authorities, but since Danny was born at home, there are not medical records on file.
Reporters with The Repository said the Amish do not have telephones and travel in horse and buggy, making the investigation difficult from a communications standpoint.
Thayer County Sheriff Gary Young is expected to leave for Ohio in the next ten days to investigate in the Dalton area.
He and Thayer County Attorney Dan Werner have investigated hundreds of leads over the past two years and both say this is the most promising.
Hebron Journal-Register, Dec. 16, 1987–Kim Johnson: Eli Stutzman, Jr., 37, believed to be the father of a boy found dead on Christmas Eve in 1985, was captured without incident Monday morning in Azle, Texas.
Stutzman faces charges filed last Friday in Thayer County Court for felony child abuse in the death of his son, Danny Stutzman.
The Hebron Journal-Register has learned that Travis County Sheriff Gary Cutler of Austin, Texas wants to question Stutzman in the death of Stutzman's roommate in a 1985 homicide. Glen A. Pritchett, 24, from Missoula, Mont., was found dead in a ditch near Austin shot through the eye with a small caliber revolver.
Hebron Journal-Register, Dec. 30, 1987–Kim Johnson: According to a copyrighted story in The Repository, Canton, Ohio's daily newspaper, former Chester United Methodist Church minister Rev. Jean Samuelson now of Harvard, said that Stutzman told her his son's death was an accident after a 20-25 minute visit with him.
The Repository also reported Danny was picked up from a foster home in Wyoming in December of 1985 by Stutzman, who said he was taking the boy to visit his grandparents near Apple Creek, Ohio.
The foster parents revealed to the Ohio newspaper that Danny was sick with a potentially serious illness, similar to strep throat when Stutzman picked him up. The foster father said he gave Stutzman a full prescription and instruction for administering it to Danny, who had congestion from the illness at the time he left.
Hebron Journal-Register, Jan. 13, 1988–Kim Johnson: Eli E. Stutzman recounted his son's death under two hours of cross examination Monday morning in Thayer County Court and was sentenced to 18 months imprisonment by Judge J. Patrick McArdle.
As expected, the felony child abuse charge against Stutzman in the death of his son was reduced to two misdemeanor charges. The Class I misdemeanors are "concealing a death" and "abandonment of a dead human body."
Stutzman, 37, was sentenced to one year at a State of Nebraska Corrections Center on the abandonment charge and six months plus $21 court costs on the concealment charge.
The Daily Record, Feb. 6, 2007–Christine L. Pratt: Eli Stutzman, 56, was found dead in his Ft. Worth, Texas, apartment Wednesday (Jan. 31) afternoon. The Tarrant County (Texas) Medical Examiner's Office ruled Stutzman's death a suicide, the cause of which was a sharp force injury to the left arm.
The former Wayne County man is not only suspected of killing and abandoning his 9-year-old son in Nebraska and starting the barn fire that claimed the life of his wife, but was convicted in the Texas murder of a former roommate. (He was released from prison in March 2002 after serving 13 years for the conviction. He was sentenced in 1989.)
Emergency personnel went to Stutzman's apartment on Wednesday afternoon after a neighbor reported Stutzman had not been seen in a while, said Lt. Dean Sullivan of the Ft. Worth Police Department. Sullivan said there were no signs of foul play, and a dog found inside the apartment was released to animal control.
Chester website: compiled by Bernetha Gillette: Because of a tragic incident on Christmas Eve 1985, the whole nation became aware of a village in Nebraska by the name of "Chester."
On that cold, snowy night, the body of a child, dressed only in blue pajamas, was found along the roadside. In the months that followed, authorities searched for clues that would lead them to learn his identity and to discover the circumstances that surrounded his death.
In the early spring, while the name of the little boy was still unknown, he was laid to rest in the Chester cemetery. The concerned community of Chester turned out en masse to give him a dignified funeral, calling him Matthew, "gift of God."
Years later, when the entire sad story was revealed, his real name, Daniel Stutzman, was added to the stone. He will, perhaps, always be know as "Chester's Little Boy Blue."