Hebron native Lt Col Kunkel pilots Raptor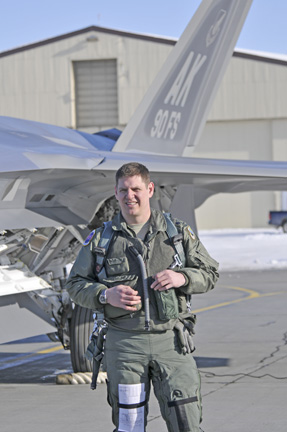 (Story by David Bedard – Joint Base Elmendorf-Richardson Public Affairs)
Swooping down from an open Alaska sky, two 90th Fighter Squadron F-22 Raptor fighters – tail numbers 4090 and 4190 – flew above the Joint Base Elmendorf-Richardson flight line in formation and at speed.
Piloting Tail Number 4190, Lt. Col. Joseph Kunkel, 90th FS commander, glanced over at his wingman before dramatically breaking formation in a swift starboard turn.
Finally, Kunkel touched the Air Force's newest jet down on the tarmac and taxied the jet to the 90th FS hangar apron where Airmen of his command awaited the arrival of their new top F-22.
After flying more than 2,100 miles from Hill Air Force Base, Utah, to Joint Base Elmendorf-Richardson with two other F-22s, F-22 Tail Number 4190 assumed its place as 90th Fighter Squadron's flagship Wednesday in a brief ceremony at the 90th FS headquarters, replacing Tail Number 4090 in the vaunted role.
Kunkel said a fighter squadron's flagship is important, because it stands as a symbol and rallying point for the command.
A flagship is pretty special," the Hebron, Neb., native explained. "I don't think of it as my flagship. I think of it as the squadron's flagship, because it's the jet that represents the squadron.
"Whenever we go somewhere, that jet goes with us," Kunkel continued. "And instead of there being a simple tail number, it's going to have '90th Fighter Squadron,' so when we roll into town, everyone knows who we are."
The commander said, though he flies the F-22, the plane belongs to the 90th Aircraft Maintenance Unit and to Staff Sgt. James Lacina, Kunkel's dedicated crew chief.
Lacina, a native of Muscatine, Iowa, said it is his job to keep the plane fully mission capable and looking as sharp as the day it left the factory paint booth.
"It's a pretty big deal," Lacina said of taking custody of the aircraft. "My name's on it first. It's a squadron jet, which for me is kind of a big deal – a pride thing."
Tail Number 4190 is one of the last F-22s scheduled to be manufactured at Lockheed-Martin's plant in Marietta, Ga. The final Raptor, Tail Number 4195, is scheduled to be delivered to JBER's 525th Fighter Squadron in May.
Before arriving at its temporary home at Hill Air Force Base, Kunkel said the Raptor's journey began a few weeks earlier at the Marietta plant, when the pilot accepted delivery of the fighter.
Jeff Babione, Lockheed-Martin vice president and general manager of the F-22 Program, said a newly manufactured F-22 passes through a strict gauntlet of tests before being turned over to the Air Force.
"When it leaves the factory, the airplane has been fundamentally checked out," Babione said. "It has the engines, landing gear, all of its subsystems – hydraulics, electrical – all of those things have been checked out to work as a functioning system."
Babione said after subsystems checks, a new F-22 – still wearing a blue-green base coat of paint – undergoes fuel system checks to ensure the fuel tanks, lines and pumps are clear of debris and capable of feeding the jet's twin F119 engines.
The fighter then moves to the Marietta flight line for its first engine run, operating from idle all the way to full afterburner.
Afterwards, the company completes four test flights before handing the jet to Air Force test pilot Lt. Col. Robert Wallace, Defense Contract Management Association, for four more test flights.
After successful testing, the Raptor finally trades its green base coat for the familiar, stealthy gray paint scheme.
Kunkel said he was treated to a unique customer experience when he arrived at the factory, perhaps little different than picking up an exotic super car in Italy.
"When I went down there, they said, 'Hey, here's what's been done during the last eight flights; it's flown all of these successfully with no issues. Here you go, here's the keys,'" Kunkel recalled. "I hopped in it and flew off."
The pilot said the F-22 cockpit had a new-car smell and it functioned a little bit more crisply than other Raptors he had flown.
"When I hopped into this jet and started the motors, it seemed like the motors spooled up faster," he said. "It seemed like when I was taxiing, everything was tight. It seemed like when I was flying, it was real tight. It felt new."
During a stop at Tinker Air Force Base, Okla., en route to Hill Air Force Base, Kunkel said local Airmen mobbed the newly minted Raptor."It was like the whole base came out to see this brand-new airplane, which had less than 10 hours of flying time on it," he said. "Frankly, everyone there was proud of the airplane – all kinds of young airmen coming up to it, looking at it saying, 'Wow, I can't believe how cool this airplane is.'"
The F-22 is the world's only operational fifth-generation fighter, which supersedes aircraft like the F-15 Strike Eagle Kunkel used to fly.
"Fifth generation means it's unmatched," Kunkel said. "What it brings to the fight and what makes it magic is one, its stealthiness; two, its integrated avionics, which decreases pilot workload immensely; three, its supercruise capability, which means we can go long distances very quickly; and then, finally, the super maneuverability of the airplane so if you get yourself in a jam and have to dogfight, you can be successful."
Having piloted Raptors during exercises with international partners, Kunkel said the fighter's unique capabilities make it a coveted asset amongst allied nations.
"Everyone wants this jet on their side," he said. "Which is the best compliment, because of the situational awareness it gives the pilots, and the ability to roll in on the enemy undetected and target them, makes the airplane unrivaled."
Read more: http://www.dvidshub.net/news/84958/flagship-90th-fighter-squadron-receives-new-f-22#.T4WuBJjHHIo#ixzz1rqU92LWk