Saturday storm hits Alexandria farm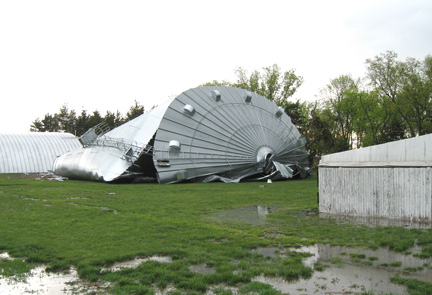 The Lyle Olson farm sustained damage Saturday afternoon as a series of strong spring storms moved across Thayer County. The farm, located one mile north of Alexandria, lost a two-year old storage bin and the roof to a shed. Trees were also damaged and two pivots located near the farm were flipped over.

The Olsons were not home during the storm and while two windows were broken and siding was damaged on the home, no one was injured in the storm.

Thayer County Emergency Manager Bill McPherson said after sending photographs of the damage into Mike Moritz at the National Weather Center in Hastings, Moritz declared the damage as caused by more of a down burst of wind than a tornado.

There was, however, a brief tornado spotted by a storm chaser two miles east of Deshler, McPherson said, but no damage has been reported from it. McPherson said the storm chaser reported the twister to the NWS and rated it as an EF0, the weakest on the Enhanced Fujita scale.

Moritz also said a brief tornado was reported five miles southwest of Byron.

The only other damage reported in Thayer County as of Monday morning included a downed section of an experimental pivot owned by Reinke Manufacturing in Deshler.

According to the online volunteer reporting service NeRAIN, most of the county received 2.5 to 3 inches of rain during the Saturday storms. The most rain, 3.05", was reported about one mile east northeast of Hebron while Gilead received 1.65".

The National Weather Service issued storm watches and warnings nearly 24 hours before the event stating storms could turn deadly. Thayer County, one of 64 counties in Nebraska targeted as the center of the watch area, came away virtually unscathed; however, others were not so lucky.

Six homes in Nebraska City were damaged as well as 50 to 100 trees. Johnson County had damaged barns and outbuildings – tree damage along a path stretching several miles could also be seen.

Tornadoes were reported near Anselmo, Holdrege and North Platte, while golf ball sized hail fell in Boone County. In Norfolk, the hail fell  in sheets quickly piling into drifts.

The storms in Thayer County rolled through from 2:15 to 4 p.m., and although the area had an additional thunderstorm warning issued at 9:30 p.m., no other damage was reported.
Photos courtesy Thayer County Emergency Management/Dan Fink.