Heitmann top finalist in National Poetry Out Loud contest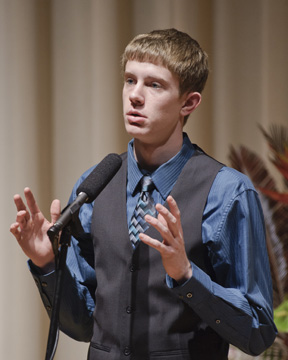 For the second year in a row, Nebraska representative and Thayer Central senior Russell Heitmann, a finalist among nine, competed in the National Poetry Out Loud finals, April 30, in Washington D.C., where he recited "The Universe as Primal Scream" by Tracy K. Smith in the first round and "Poem With One Fact" by Donald Hall in the second.
Following the competition, the field was narrowed to three finalists to compete for the championship. Langston Ward, a high school senior from Spokane, Wash., won the contest.
The final night of the 2013 national competition was held in Lisner Auditorium at George Washington University. The judges included poets Patricia Smith and Eduardo Corral, broadcaster Jane O'Brien and Tree Swanson, the executive director of the Richard Hugo House, a non-profit writing center in Seattle.
A collaboration of the National Endowment for the Arts and the Poetry Foundation, the contest encourages high school students to learn about poetry through memorization and performance.
More than 375,000 students participated in this year's eighth-annual contest. Fifty-three state champions, representing the 50 states, the District of Columbia, Puerto Rico, and the Virgin Islands, competed Monday in three semi-final rounds. Three winners from each round advanced to the final, Heitmann included.
Students are required to memorize and perform three contemporary and classic poems from the Poetry Out Loud catalog of some 700 poems. One of the three must be fewer than 25 lines, and one must be written before 1900.
The students are judged on voice and articulation, physical presence, dramatization, level of difficulty and evidence of understanding.
Again, Russ was able to win $500 for poetry materials for Thayer Central as well as $1,000 for himself. He is the son of Darcy and Anne Heitmann of Hebron.