It's been 60 years since Hebron's devastating tornado
(The following summary of one of Hebron's worst historical disasters is taken from the pages of "The Hebron Disaster," a 21-page booklet lithographed by Journal-Star Printing Co., Lincoln, Ne., two weeks after the May 9, 1953 tornado.)
"Surely the world is full of wonderful people. You will never know who your friends are until something terrible like this happens to you or your community. You will then find that many people who barely knew of you or your town will come to you as they came to me, pulling your shirt sleeve and asking, "What can I do?""~ Ralph Hawkins, Hebron Mayor, 1953
This day was born as nearly any Saturday might have been, temperature seasonally normal, the sky partially clouded, with only one extraordinary feature – a terrifically strong south wind. At approximately 9 p.m., dark clouds and thunderstorms became visible to the southwest, west, and northwest, still borne by this never-ending wind. Sometime shortly after 9 p.m., some rain fell, accompanied by hail stones not too extreme in number, but some as large as a man's palm and unusually flat and not too solidly frozen.
An unusual feeling of doom, a sixth sense calling for self-preservation seemed to permeate the atmosphere. That intangible something that drives people to the desire to gather their families and loved ones into one tight, close, unit –
And then it struck.
This huge black cloud out of the southwest with that black tail of disaster was descending upon us, and Hebron stood powerless, defenseless, directly in its path.
Very few saw it coming. After this never-to-be-forgotten one and one-half minutes of Hell, a hush fell over the little city, broken only by that still restless wind that had prevailed all of this Saturday, and a din of a dozen or more automobile horns honking in various parts of the downtown area. Stout masonry buildings had crumbled down upon these cars, caving their tops down until the horn buttons were depressed, causing them to wail like a child lost in the wilderness.
Then followed the moans of the injured, the screams of the trapped but unhurt, the inevitable sirens, the rush and the bustle of a town torn apart, rain – wind – darkness…
Stories will now vary as to whether there was a calm period just prior to the approach of God's nightmare, or whether the straight winds continued on into the very second of the tornado's approach. However, all felt a strange pressure upon the eardrums. Then with the roar of an express train it entered the town, ripping, howling, screaming, destroying everything in its path.
The wake of the tornado shows entry about two blocks south of main street (Lincoln Avenue) cutting an irregular destruction path from First to Fifth streets in the business section, passing on through the residential section diagonally, wrecking the high school as it left the city limits, to further destruction of farmsteads for an additional 15 miles or more.
Sunday morning found the entire town littered with debris, dirt, lumber, glass, brick, mortar, trees, wires, metal, roofs, signs, demolished cars, furniture, paper and everything imaginable. Very few of the residents had gone to bed.
A loud speaker car had been mobilized and Mayor Ralph Hawkins issued calls for a general meeting to be held at the City Hall at 1:30 p.m.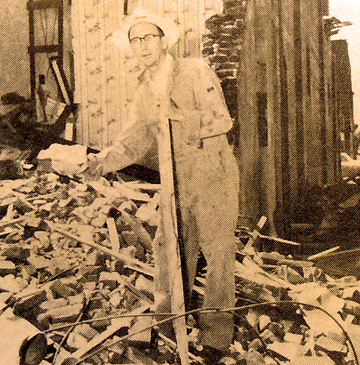 At this first meeting Hebron residents were advised that they were now under martial law to prevent looting and further loss to damaged homes and business buildings. No one was to be allowed in the business district after dark with the exception of those business men who were given passes to enter this district to guard their merchandise. The task at this point seemed insurmountable.
On Monday morning the work of cleaning up began in earnest. Volunteer workers began to pour in by the dozens with trucks, tractors, dozers and all types of hauling equipment. On Tuesday, the tide of volunteer workers swelled to perhaps 1,000 people. Utility workers swarmed in with trucks and equipment and this day some telephones were restored to use. The canteens that had been set up in the gymnasium and the Methodist Church were filled to overflowing and served approximately 2,000 people.
By Saturday evening, one full week following the disaster, city officials could see that work was being accomplished at a high rate of speed. The majority of the cleanup work was done by donated, volunteer labor [as] Hebron people were too busy protecting their businesses, making temporary repairs, seeking places to live, and attending to the myriad of other details, to render much help in the cleanup of the streets and alleys.
"The People of Hebron, the City Officials, and the Mayor cannot find words to thank all the fine people who came to Hebron at our call for help. Each of you has rendered an invaluable service. Thanking all of you fine people again for your wonderful service and realizing that this story of the Hebron storm is probably all the thanks that you will ever receive, except that warm feeling within your own heart that comes only to people who have given of their time and ability in the service of their fellow man in his time of disaster. I assure, your deeds will never be forgotten." ~ Ralph Hawkins, Hebron Mayor, 1953.