Lady Titans cross country qualify for state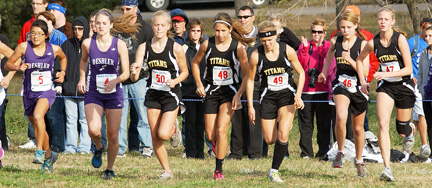 The Thayer Central Lady Titans cross country team will head to the state meet at Kearney Country Club, Oct. 19, after snagging the runner-up position at the D-1 district meet. The Class D girls' race begins at noon while the Class D boys' race is at 1 p.m.
It's been a decade since the school has seen a girls' cross country team qualify.
"It has been an awesome season so far for the girls," said TC coach Andy Long, "and hopefully they can top it off with a great finish at state on Friday. I am proud of how hard they have worked this fall and most of all how they have come together as a team."
The squad finished behind Malcolm (28) with 56 points. Weeping Water came in third with 60 points to round out the state contenders.
Individually, Bailey Linton led the Lady Titans with a time of 17:03.86 to finish eighth overall. Teammate Madison Reece followed her in for ninth in a time of 17:13.5, and Rachel Heitmann claimed 13th with a time of 17:42.07. Shawna Timmerman ended the race in 26th in a time of 18:53.15 and Sydney Cottam rounded out the Titans scoring with a 45th place finish in a time of 21:15.54.
For the boys, Adam Hellbusch and Russ Heitmann qualified to compete at the state tournament after finishing the race in eighth and 13th, respectively. Hellbusch finished in 18:00.46 minutes  while Heitmann finished in 18:15.85.
"Adam and Russ ran excellent races," said Coach Long. "Adam has earned a medal in all of his meets this year and it is nice to see the hard work and dedication Russ has put in for the last four years."
Individually the top 15 racers qualify for the state event.
Other individual finishes on the boys team included: Heath Fink-19.49.7; Landon Schmitt-19:50.04; Ben Baden-20:44.76.
The boys' team finished fifth with 80 points.
State qualifying teams were McCool Junction (43), Hastings St. Cecilia (55), Grand Island Central Catholic (57).
Deshler Dragons
The Deshler Dragons ended their season at the district meet. "We scored some best times of the season at districts," Deshler Coach Shannon LaFave said. "I am really proud of how our runners did this season."
For the girls, freshman Lydia Kirchhoff finished the race in 19:56.96 while senior Christina Hoops finished in 20:18.24.
Individual finishes for the boys included: Sophomore Noah Burger-19:55.38; freshman Benjamin Hoops-22:31.48; senior Craig Meier-21:00.13.
LeFave will lose Meier and Hoops to graduation this year but is looking forward to strong returnees in Noah, Benjamin and Lydia.