Legion Juniors take first two games – Seniors head into tourney this week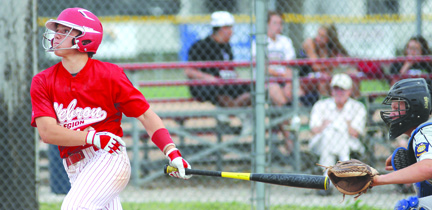 The Hebron Legion Junior baseball team headed into Area 5 Class C finals at Doniphan Tuesday night after collecting wins against its first two competitions over the weekend. Results from the final game will be available next week right here in the Hebron Journal-Register.

No. 2 Hebron started its run against No. 3 Davenport/Edgar in the opening game of the series Friday night, July 13, defeating D/E 10-2.

On Sunday, July 15, Hebron defeated No. 1 Dannebrog/Cairo/Boelus in the second round 15-0 in five innings. "I wasn't really expecting to roll like we did against DCB," Hebron coach Mark Hintz said. "Our guys looked pretty sharp out there."

DCB then fell to Davenport/Edgar pitting the Hebron squad against D/E Tuesday night in the final.

Teams must win the area tournament to compete at the state contest. The Junior state tournament will take place July 21-25 at North Bend.

And while the Junior area tournaments wound up action Tuesday night,  the American Legion Senior Baseball team starts its contention in the C-5 Area 5 tournament tomorrow,  July 19, at Daykin; winners advance to the state tournament in Valley, July 28-Aug 1.

No. 6 Hebron opens against No. 3 Utica-Beaver Crossing at 5:30 p.m., in game two of the series.

Game one includes No. 5 Geneva  against No. 4 Tecumseh  at 3 p.m., and game three featuring No. 7 Meridian against No. 2 Davenport-Edgar at 8 p.m., rounds out the opening games.

On July 20, No. 1 Sutton faces  the winner of game one.

The Area 5 senior tournament runs through Tuesday, July 24.