Local interest lifts to the wind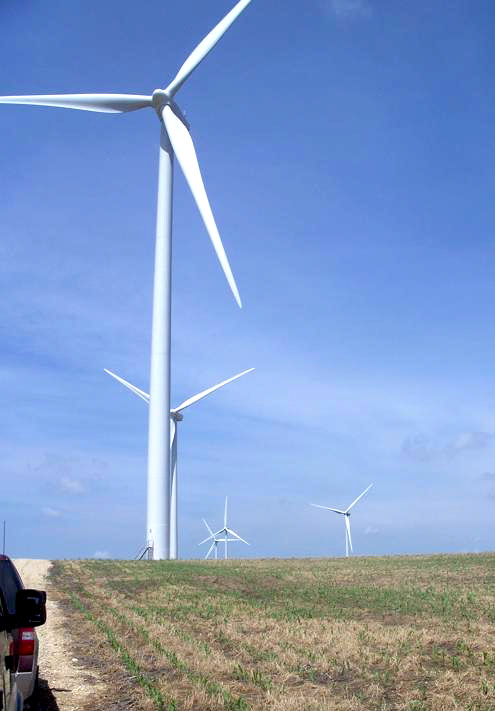 Thayer County landowners returned from a field trip to a wind farm last week excited about what they discovered. "There's a lot of interest and excitement especially after our trip to Kansas," said Thayer County wind group representative Gina Hudson. "It's incredible what the wind farm has done for communities down there."
About 18 months ago, former Thayer County resident Gary Aksamit began talks with local landowners feeding them information about Nebraska's wind potential. His hope is to build a $200 million wind farm along Road Q from U.S. 81 to Highway 53. "I'm talking about 30-75 wind turbines, whatever NPPD will allow," he told Thayer County commissioners in October of 2009. "If you think about this, it's about creating a small utility within Thayer County. A utility that is run by a board of local owners; owners who possess it and control it. Owners who know what their neighbor, who is also an owner, is doing."
Nebraska ranks 22nd in wind energy development nationally; sixth in wind potential. Gov. Dave Heineman visited the Saline County Wind Association earlier this month and said he wanted to see Nebraska accelerate wind energy development. He said the 240-member association is by far the largest in the state working on wind development and that he is glad to see it. He added that he would like to see the state rise from its 22nd ranking for development to the top five or ten by 2020.
Hudson said in Thayer County, land has been secured for a MET (meteorological) tower. "It will be 60 meters (196.85) tall or about half as high as a turbine," she said. "It's purpose is to measure wind speed and barometric pressure in a specific area for 12 months."
Hudson, who has been interested in the project since Aksamit first introduced the concept, said 31 landowners and local investors traveled to the 67-turbine Meridian Way wind farm near Concordia and came home impressed with what they saw. "The turbines are really quiet. The only thing I could hear was a soft hum when I stood next to them," she said, then added that the benefits to surrounding communities are numerous including road improvements and community projects. "You don't need to have a turbine on your property to experience the benefits."
Hudson said Meridian Way farm owner Michelle Graham told the group the farm will give approximately $5 million back to its community over a 20-year period.
Aksamit told commissioners that since the passage of LB1048, the Thayer County project would create about $250,000 in personal property tax for the county each year for the life of the project, and when all is said and done, create permanent employment for about 6-12 people. 
"A few landowners have looked over agreements," Hudson said. "Reaction to local wind development has been very positive."
 The Thayer County Zoning and Planning Commission will hold a public hearing Thursday, June 17, at 8:30 p.m., in the Club Room of the courthouse to allow public comment on the application of Gary Aksamit to construct the MET tower. Land for the tower is located approximately four miles east of U.S. 81 on Road Q ("monument" road).